Wedding of Matt and Jan
December 11, 2010
| | |
| --- | --- |
| | We celebrated the wedding of Matt Thompson and Jan Pursley at the McGarity House in Temple. It apparently was a very large old farm house which even retains its well on the back porch. |
| | |
| --- | --- |
| The ceremony was held outside, so the crowd has gathered here in the cool early evening. The children are awaiting the start of the ceremony, and seemed to be having a good time together. | |
Matt's and Jan's Mothers are escorted in. Matt's Mom Stacy is escorted by Darnell.
Mom Stacy has a good vantage point to watch Matt's entrance with his groomsmen. The wedding was planned around a casual western theme, with the wedding party wearing blue plaid shirts.
| | |
| --- | --- |
| | Matt and the groomsmen take their place at the front. |
The bridesmaids continue the blue plaid shirt and jeans motif. Jan's long -time pet gets escorted to be a part of the ceremony. The 14-year-old dog was supposed to be the ring bearer, but he got cold feet.
| | |
| --- | --- |
| The bride was escorted first by the brother who was also the minister for the ceremony. Then she was handed off to two other brothers, and then to Dad. | |
| | |
| --- | --- |
| Dad escorts the bride to the front and the ceremony begins. | |
| | |
| --- | --- |
| Matt and Jan are pronounced man and wife and after a few pictures, everyone hurries inside where it is warmer to continue the celebration. | |
| | |
| --- | --- |
| | Matt and Jan take the first dance as newlyweds. |
Matt and Jan dance as the extended family celebrates this occasion.

Below, Dad gets a dance with the bride as Mom looks on.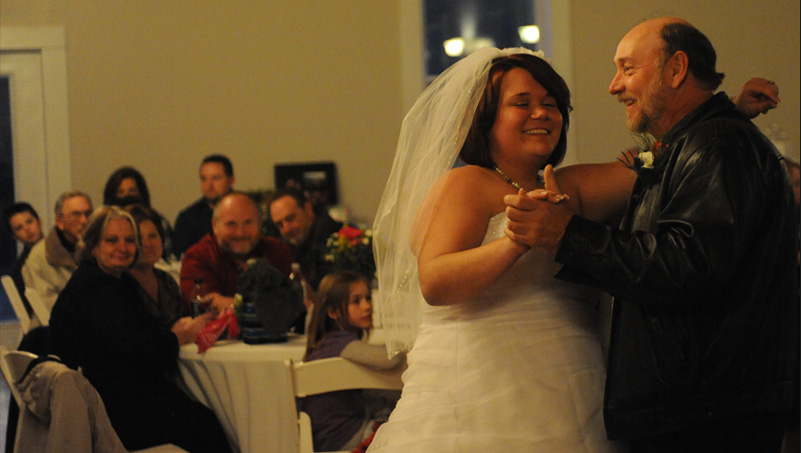 | | |
| --- | --- |
| This is Dad's moment as Matt and the rest of the wedding party watch from the wings. | |
With the dancing and with a very nice buffet dinner, we had a very enjoyable fellowship with family and friends.

When Matt and Mom Stacy danced, things got a little crazier.

Along the line of the very nice buffet were mantle decorations with pictures of Matt and Jan.
In keeping with their western theme, Jan and Matt had boots on their napkins, boots for table decorations, and each of them wore boots for the wedding.
| | |
| --- | --- |
| | Brenda and Sherry got to meet and talk with Janet, Jan's Mother and a number of other members of Jan's family. |
| | |
| --- | --- |
| | The cutting of the cakes gave opportunity for some nice family photos. Of course, with this crew, you've got to expect some craziness too! |
After the cake cutting, there was more dancing, but this time it was more like line dancing for the group. Jan was leading it, or at least in the middle of it. This was a wedding that included the children and they seemed to have a good time.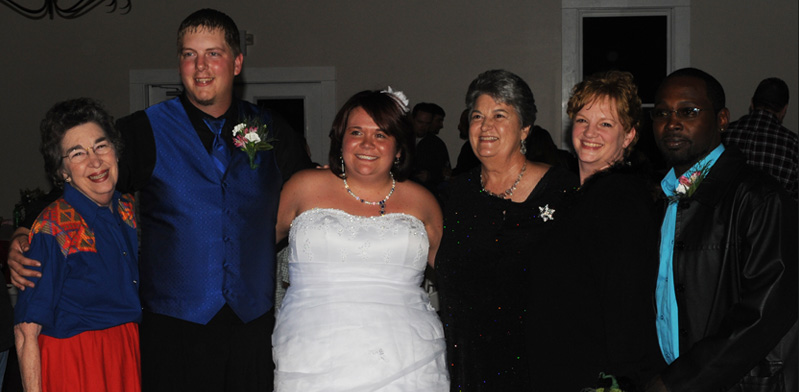 As things started to wind down, we got a picture with the bride and groom. Brenda, Matt, Jan, Sherry, Stacy and Darnell.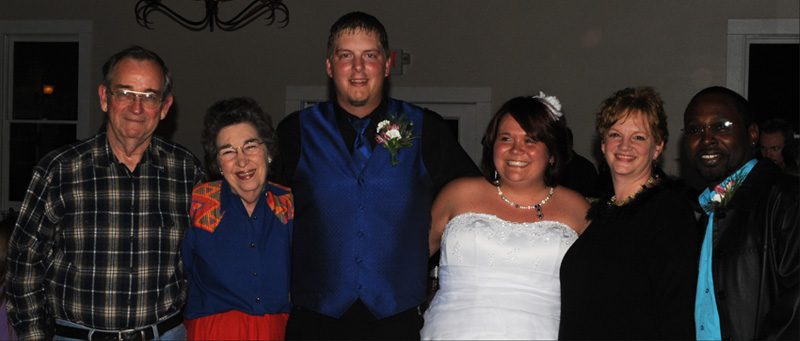 Sherry drug Rod out from behind the camera to shoot this one. We were all pleased to be a part of this enjoyable wedding celebration and certainly give every prayer and good wish to the newlyweds.
Index
2010