Pearl River Activities
September 11, 2010
| | |
| --- | --- |
| | It was birthday celebration time for Caleb Wells, who had a party in the afternoon, and Robby Wells and Tom Ringo, for whom we had a dinner at the Moyles. It was good to see the girls get together. Lindsey Moyle, Jordan Nave, Bethany Moyle, Ashleigh and Elyse Nave sit down for dinner in the breakfast area. |
| | |
| --- | --- |
| After a fine family dinner, we gathered around an ice cream cake to celebrate Robby's and Tom's birthdays. | |
| | |
| --- | --- |
| | The guys idea of celebration was to watch football, this being Saturday. But the cake was enough of an attraction to get them back to the dining room for a little while. |

We gathered back in the den for gift opening. At left above, Elyse, Lindsey, Caleb and Robby. At right Caleb, Judy, Jessica, Jordan with Bethany in front of her, and Ashleigh.
| | |
| --- | --- |
| The adults take the couch and chairs, while the children play on the carpet. Diane, Leslie, Jeff and Debbie. | |
| | |
| --- | --- |
| Diane gets a good laugh out of Tom with her card. | |
On Sunday we went to church at Northshore Church for a special service honoring the first responders - the Firemen, Police, EMTs of the area and then had a special luncheon associated with that service. Afterward we went to Jordan's soccer game.
This collage shows Jordan in action during the game. Bethany Moyle is on the team and is shown at bottom right in the collage.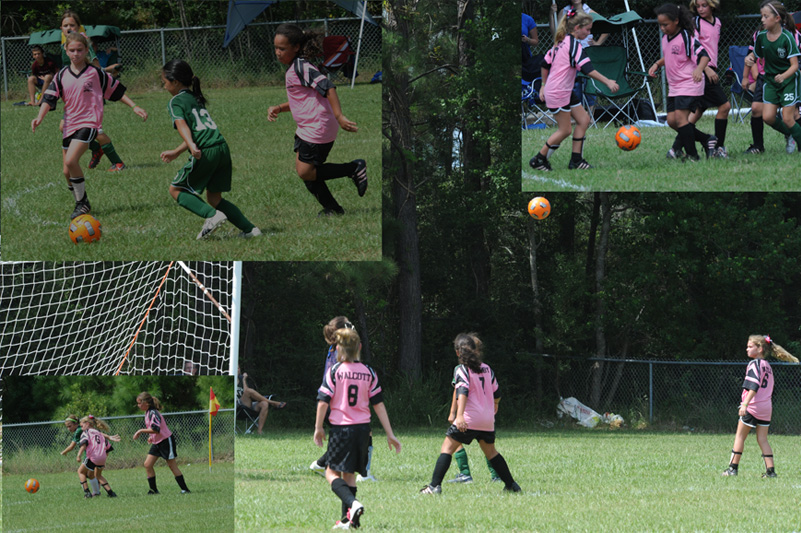 This collage shows Bethany in action. She has really quick feet and went to the ball well.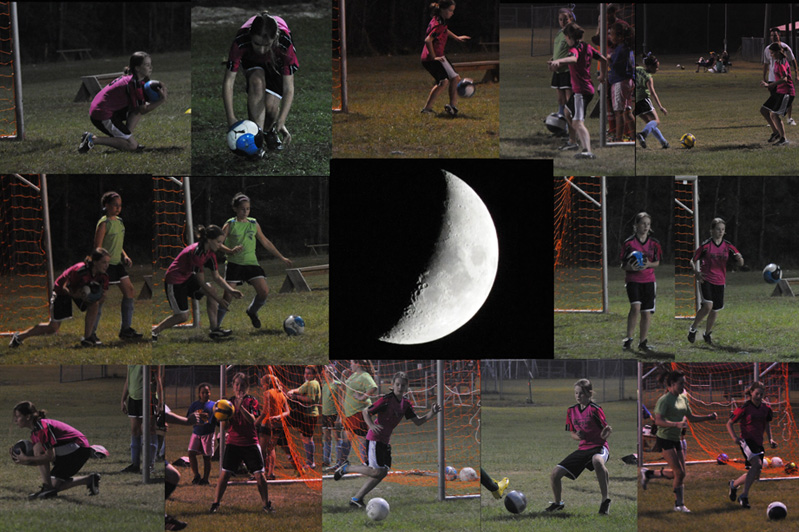 Ashleigh's team practiced on Monday night under a clear sky and a half moon. Ashleigh was in goal and got blitzed from all directions as her team practiced shooting goals and had a scrimmage.
On Tuesday morning we got up and had breakfast with the family and prepared for our trip back home.
We got to see Elyse with her new violin. She is going to take violin lessons at school. It is a one-eighth size violin!

Elyse has her school uniform on, ready to go to Little Pearl. We got to see Elyse get on the schoolbus to go to school.
| | |
| --- | --- |
| | We went to say goodbye to the latest member of the menagerie, Yertle the turtle. She is extraordinarily friendly, seldom going into her shell. The most striking thing to me is that you could roll a tennis ball in front of her and she would chase it! I've certainly never seen that before! Jeff had been feeding her egg yolks and would roll those out in front of her, and he said she loved them. So we presume that is where the ball chasing comes from - it looks like a big egg yolk to her. The girls fed her earthworms, pieces of ham, and here you see her going after a grape. Scooter the dog doesn't bother her, generally, but we had trouble with him grabbing the pieces of ham when Jordan was feeding those to her. |
Ashleigh and Jordan were getting ready to go to sessions with the Home School Co-op at a local church. Ashleigh is writing and Jordan is preparing pictures for a scrapbooking session.
| | |
| --- | --- |
| | We went over for a brief visit to where the co-op was meeting for their math and science sessions. Darla was teaching the General Science course, and Ashleigh is in her class. We were pleased to see some of the operation of their home school cooperative. Then we headed north for our trip back home, grateful for the nice time to spend with the family. |
Index
2010