Backpack Day at Mableton First Baptist
"Love Loud" Back to School Event
July 18, 2010
| | |
| --- | --- |
| | This year the congregation contributed for a big "backpack day" with backpacks filled with school supplies as a part of an overall community ministry day. Esther McLean with the stack of filled backpacks. |
| | |
| --- | --- |
| At our announced start time of 3pm there was a line out the door and up onto the parking lot. | |
| | |
| --- | --- |
| | We registered the folks as they came in the door and directed them toward the haircuts and medical check locations. |
| | |
| --- | --- |
| Amelia Vela and her daughter Katherine served as interpreters when needed for the Hispanic visitors who were a sizable fraction of the crowd. | |
| | |
| --- | --- |
| | We had a big crowd inside waiting for haircuts and medical checks, and provided snocones to those waiting. |
| | |
| --- | --- |
| Aaron Brookshire masterminded the entire Love Loud event, and was now having to deal with the contingency of the weather. Just as we got the long line formed out into the parking lot, a heavy cloud rolled in with thunder and lightning and he is having to formulate a plan to deal with the coming thundershower. | |
| | |
| --- | --- |
| | And the rains did come, in a heavy downpour. So we scrambled to get the folks routed upstairs across the breezeway, through the hall and down the interior stairway to th e Fellowship Hall. |
| | |
| --- | --- |
| By routing the folks through the upper hall, we had more opportunity to walk along and talk with them. This group includes Oscar Escobar and his sons Oscar Jr and Carlos from Iglesia de Mableton. Also Megan and her family whom we have known for several years from VBS. | |
| | |
| --- | --- |
| | It gave us the opportunity to meet a lot of cute kids, like these girls, Hispanic and African american. |
| | |
| --- | --- |
| It was an opportunity to get a lot of kids from the neighborhood into the church, and perhaps lower the threshold for getting them back to Awana or VBS. | |
| | |
| --- | --- |
| | Anita and Max Hardie help publicize the Awana Clubs which will begin for the Fall term on August 4. Bud Durand and Pat Peal provide dramatized Bible stories as the folks come through. |
| | |
| --- | --- |
| The free haircuts were one of the most popular services provided. In center, Rhonda Short gives Paco Nava a trim. | |
| | |
| --- | --- |
| | Besides Rhonda from our own church, several other hairdressers volunteered their time for the ministry today. |
| | |
| --- | --- |
| Renee Oxendine and Dr. Wayne Templeton administered eye tests. | |
| | |
| --- | --- |
| | The Colgate dental van set up in the parking lot right outside to do dental checkups. |
| | |
| --- | --- |
| A setup with two full dental chairs made the van an impressive facility. | |
| | |
| --- | --- |
| | Jo Templeton helps guide people in the hall to the medical and dental services. |
| | |
| --- | --- |
| Elaine Ridgway was one of our Bible story tellers along the way, dressed in Biblical period costume. | |
| | |
| --- | --- |
| | Pat Peal tells in first person the story of the woman healed by Jesus. |
| | |
| --- | --- |
| Bud Durand portrays one of the Disciples who was in the boat when Jesus calmed the raging storm. | |
| | |
| --- | --- |
| | Esther McLean and Jon Rowland hand out backpacks. Inside each is school supplies and a copy of the Bible with some information about the church. |
| | |
| --- | --- |
| Another big group for backpacks. Becky Ridgway, Ester McLean, Leigh Miller , Jon Rowland and Richard Peal are busy handing out packs. | |
| | |
| --- | --- |
| | Vineyard helps guide the crowd as Becky Ridgway and Esther McLean hand out backpacks. |
| | |
| --- | --- |
| These girls seem excited about their new backpacks. | |
| | |
| --- | --- |
| | Becky and Esther stay busy as these two Hispanic families come through for backpacks. I enjoyed seeing a number of the members from Iglesia de Mableton. |
| | |
| --- | --- |
| Leigh Miller talks to this young man about his new backpack. | |
The cooking crew has finished their work on the big grill, so Ricky Ridgway, Billy Ridgway, Chris Ayers and Scott Ridgway watch the big crowd gather at the door. The serving crew includes Bobbie Jackson, Sharon and Jim Lance and they are ready with hotdogs and all the trimmings.
| | |
| --- | --- |
| | Waymon and Joyce Story, Bobbie Jackson and Shirley Pattison begin to serve hotdogs as the folks emerge from getting their backpacks. |
| | |
| --- | --- |
| Proud of their new backpacks, this group approaches the hotdog counter. | |
| | |
| --- | --- |
| | Bobbie Jackson and Jim Lance hand out a lot of hotdogs, and there was a spirit of celebration with the new backpacks and the hotdogs. |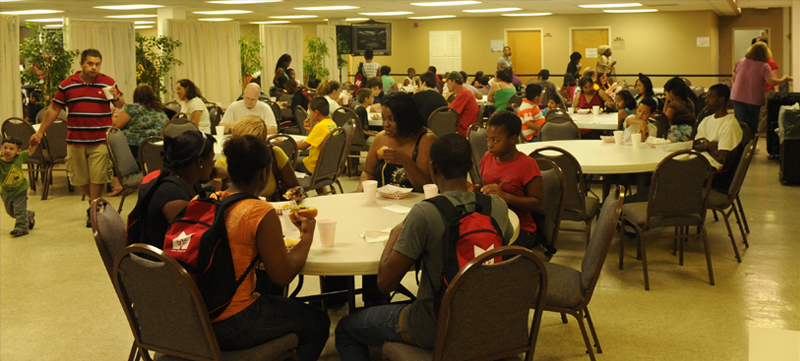 We had a large area of the Fellowship Hall set aside for the folks to eat and fellowship after they got their hotdogs. We praised the Lord for all our volunteers and the general good spirit of the occasion.
Index
2010