Visit with the Farrs and Jones's at Bent Tree
October 17-18, 2011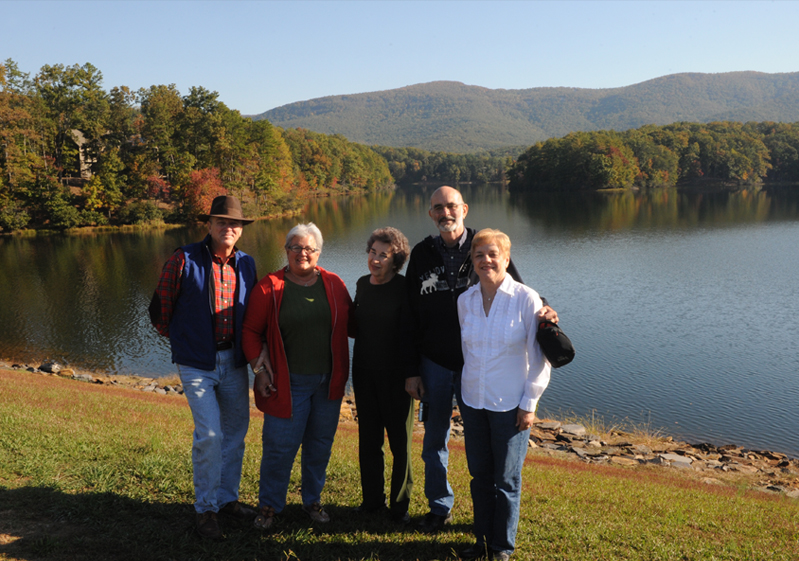 We were delighted to be able to visit with Dave and Joyce Farr and Ron and Linda Jones. Their family had gathered in the Atlanta area for the wedding of one of Gary Bechdol's daughters, and the Farrs and Jones's were staying at a house not far from Bent Tree. So we drove up to see them and had a lovely day of touring around and talking. Oh, and a good bit of eating together as well!The above is one of our favorite photo spots on the dam of Lake Tamarack at Bent Tree.
| | |
| --- | --- |
| We drove up to Bent Tree on Sunday afternoon the 17th and got to enjoy our favorite time of day there, with the sunset through the woods. | |
| | |
| --- | --- |
| | Always the small-game hunter, Rod was fascinated by this critter on the deck railing. It would have to be classified by the formal name "stinkbug" from its general shape. But I have never seen one like it. It had something like a short piece of sawblade on his back as armor. |
| | |
| --- | --- |
| Just after 8am we drove down to pick up the Farrs and Joneses to take them to breakfast at the 19th Hole. On the way back up the mountain we saw a flock of wild turkeys by the roadside. | |
| | |
| --- | --- |
| There were ten turkeys in this little flock. They were foraging peacefully right beside the road, and didn't seem at all alarmed by our presence. | |
We thoroughly enjoyed our breakfast and conversation at the 19th Hole Restaurant. We hadn't seen the Farrs since the early 70's when we visited them on one of our trips down for an Apollo launch. We had so much fun that a lady in the restaurant commented to Brenda about how delighted we seemed to be to be together, and Brenda got into a bit of a conversation with her. Out time together was a great blessing. We went from the 19th Hole on around the lake to the dam and enjoyed the view across Lake Tamarack.
From this view on the dam we went on around to the spillway and waterfall.
From the spillway we drove on around to the beach side of the lake. Above the kayakers above right, you can just see the end of the grassy dam where we were standing for the group pictures.

We relaxed for a while at the pavilion overlooking the beach and the lake and enjoyed the color of the trees reflecting in the water. We were praising the Lord for the absolutely beautiful day.
| | |
| --- | --- |
| | We took them by our house for a visit and enjoyed the clear air from the deck. |
| | |
| --- | --- |
| From our house we drove up Little Hendricks Mt Rd to the top of Big Stump Mountain where we got the view at right. We had come from the lake at 1500ft to our house at 2400ft and were now at about 3000 ft at the top of Big Stump. You can clearly see the dam where we stood a short time ago. The house where we are standing in the above picture is one of my standard stops with the Awana boys when we walk up here from out house. | |
Index
2011