Family Visit, Pearl River
December 26-28, 2014
We stayed around to visit with the family in Pearl River since we had been delayed in getting down there this year. On Friday night we went out to dinner with Jeff and family at Caretta's, one of their favorite restaurants in Slidell. On Friday we took Judy to breakfast at Cracker Barrell in Slidell and enjoyed a calm visit with her after the active Christmas celebration.
Since Friday was Elyse's 10th birthday, we did a small celebration with her, the big party having been scheduled later in January. We all enjoyed a taste of her ice cream cake decorated as a cute puppy.
| | |
| --- | --- |
| | Staying for the weekend allowed us to go to church with Jeff and family at Northshore Church. It is an impressive, vital young congregation. |
| | |
| --- | --- |
| One of our blessings from our delayed trip was to get to hear Jeff preach at Northshore. He preached on the wisemen or magi. Since they probably arrived when Jesus was nearly two, he related the story of us finding him on top of the refrigerator when he was about that age. We couldn't say that we were greatly surprised, since he had been actively exploring since he was 9 months old. I told him that I was proud of him even when finding him on the refrigerator, and still proud of him. | |
We enjoyed the opportunity to just relax with Jeff and Darla and the girls for the weekend. Elyse spends some time with the dogs. We were amazed to see how much Olive, their catahoula puppy, had grown - dwarfing tiny Scooter. Darla prepared a wonderful dinner on Sunday night and afterward Jordan and Elyse got out their musical instruments to play for us.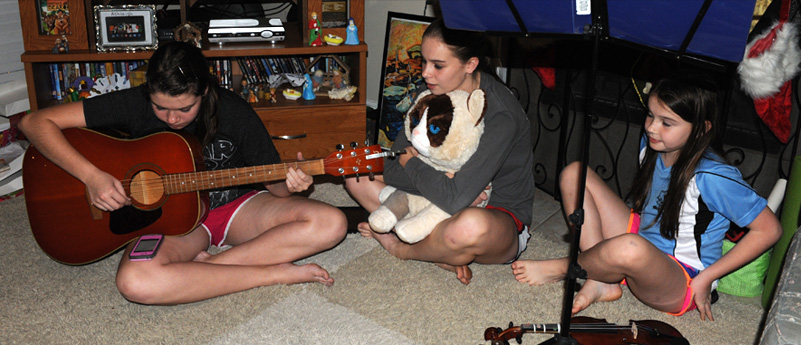 Jordan is progressing nicely with her guitar skills and she and Elyse were able to play some Christmas carols for us to sing along. We look forward to more sing-alongs in the future.

We enjoyed this Sunday evening with the family and then returned to Judy's for the evening. We enjoyed staying with Judy and appreciated her hospitality. We got up and left at 5am because we needed to be back to get Brenda's cumadin level checked - it checked fine and we rejoiced in the memories of Christmas with the family.
Index
2014