Jeff and Family Thanksgiving Visit
November 22, 2014
| | |
| --- | --- |
| | Jordan and Elyse raking trails in the back yard. |
Jeff and family arrived about 11pm on Friday November 21 and settled in for the night. On Saturday, Jordan and Elyse were out raking their traditional Thanksgiving trails in the back yard leaves. This tradition gives me an excuse for not raking the leaves until after Thanksgiving.
Another notable thing here is how much both Jordan and Elyse have grown - Jordan is now almost as tall as Darla, and Elyse has grown more dramatically than the other two.
| | |
| --- | --- |
| | The leaves inspired Ashleigh to do a color study of leaves. I was amazed that she could do it so quickly - it looks like many hours of work. |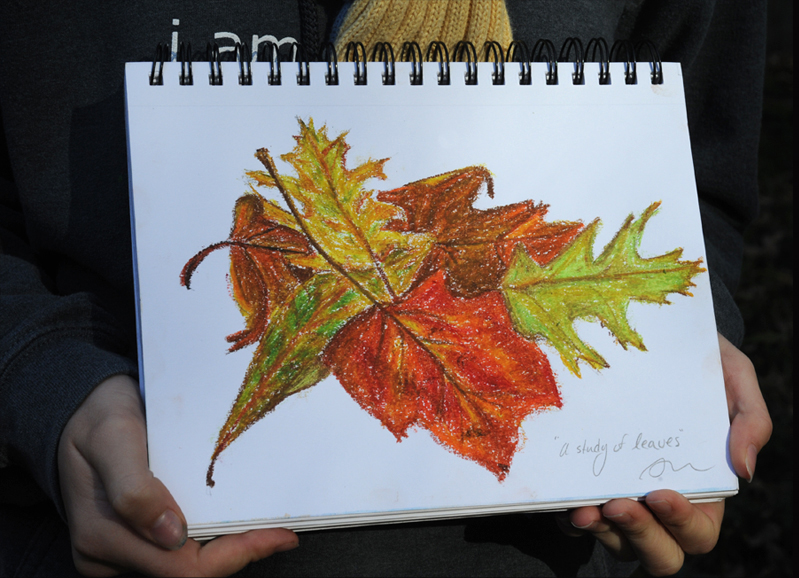 November 23, 2014
We were joined by Marty at the Thanksgiving Around the Table celebration on Sunday. While waiting for our time in line, we all selected our deserts. Marty, Darla, Jeff, Jordan, Brenda, Ashleigh, Rod, Elyse.
| | |
| --- | --- |
| | Brenda and Darla took the girls to the mall for their traditional visit to the Bear Store. So, with their bears, the posed with Santa. |
November 27, 2014
We enjoyed our Thanksgiving dinner and got the group together in the afternoon for this picture. L-R: Rod and Brenda, Mark, Jeff, Jordan, Darla with Elyse in front, Ashleigh, Aunt Dorothy Watts, Sherry.
November 28, 2014
| | |
| --- | --- |
| Elyse sends the slinky down the basement stair one last time, and the girls have packed their bags for the journey home. | It was a great week of visiting, but now it was time to pack for home. We were just consoled by the fact that we will see them in three weeks for our Christmas visit. |
Index
2014