To Pearl River for Christmas
December 23, 2014
Our planned trip to Pearl River on Friday, December 19 had been delayed by Brenda's hospitalization for blood clots in her lungs. We had a visit to Dr. Andrews at 9:45 on Tuesday after Brenda's release from the hospital on Friday. We got Dr. Andrews' blessing to make the trip while continuing on Lovinox and Cumadin. We finally left about 1pm.
We left in fog and drizzle and then from Tuscaloosa to Meridian we encountered intense thunderstorms with sheets of rain and fog and very poor visibility. I camped out behind a fuel truck and followed his taillights for several miles and otherwise the drivers were very cooperative in convoying with hazard blinkers on. It was probably the worst conditions I had ever encountered on a trip. South of Meridian it was still pouring rain, but a little visibility and I mostly just followed taillights. There was a spectacular lightning display all the way to Pearl River.
We stopped by to visit with Jeff and Darla and the girls and proceeded on to Abita Springs for the night. It was still pouring rain, but not foggy like one previous trip we had had several years ago.
December 24, 2014
After a good night's sleep, we awoke to bright sunshine at Abita Springs. After a pleasant morning we went to Jeff's about noon.

We had a relaxing afternoon at Jeff's. They did their family walk through their neighborhood with gifts and Christmas greetings to the neighbors.
| | |
| --- | --- |
| | We all went to the Christmas Eve service with Judy at Peace Lutheran Church and returned to Judy's house for a Christmas social afterward. Pastor Barbara brought a cake to celebrate the birthdays of Elyse and Dr. Christi Graves. |
| | |
| --- | --- |
| Brenda and I, mostly Brenda, helped Judy with the filling of the stockings for the family members for hanging on the mantle before settling in for the night at Judy's. We got to bed at 11:30, but that was 12:30 Atlanta time, so we were sleepy. | |
December 25, 2014
| | |
| --- | --- |
| We joined Jeff and family about 8:30 on Christmas morning. | |
We enjoyed hearing about what Santa Claus had brought them and enjoyed their playfulness. One thing that impressed us about the advance of technology was that Elyse could control her fuzzy dog from an App on her phone!
| | |
| --- | --- |
| The girls wanted us to sit down to receive gifts they had gotten for us, and that gave us the excuse to be a little playful too. | |
Ashleigh had framed the leaf drawing she had done at our house at Thanksgiving. We appreciated the thoughtful gifts of the girls.
| | |
| --- | --- |
| | Brenda and Rod look at Elyse's gift, above left. Jeff had gotten his Dad a three-ball trailer hitch for the Toyota Tacoma. |
Uncle Mark was very generous with cash gifts for the girls, and they were very excited about that. They quickly planned shopping trips.
| | |
| --- | --- |
| Uncle Wesley sent a very creative box of gifts with a marine theme appropriate to his south Florida location. Jordan and Elyse carefully unpack the box of gifts and distribute them around. | |
To Jeff, Wes sent a set of metal marine figurines, which he promptly put on a buffing wheel and polished to a nice sheen. To Brenda he sent a beautiful fish sculpture, which I liked because it reminded me of the blue tang, one of my favorites of the reef fish.
Ashleigh examines the collection of small shells and figurines in her box.
Christmastime is a good opportunity to get pictures of the granddaughters with Brenda. Ashleigh and Jordan are growing up so fast - they are now young ladies.

Even Elyse is growing up so fast, so it is a joy to get together with them at holiday time.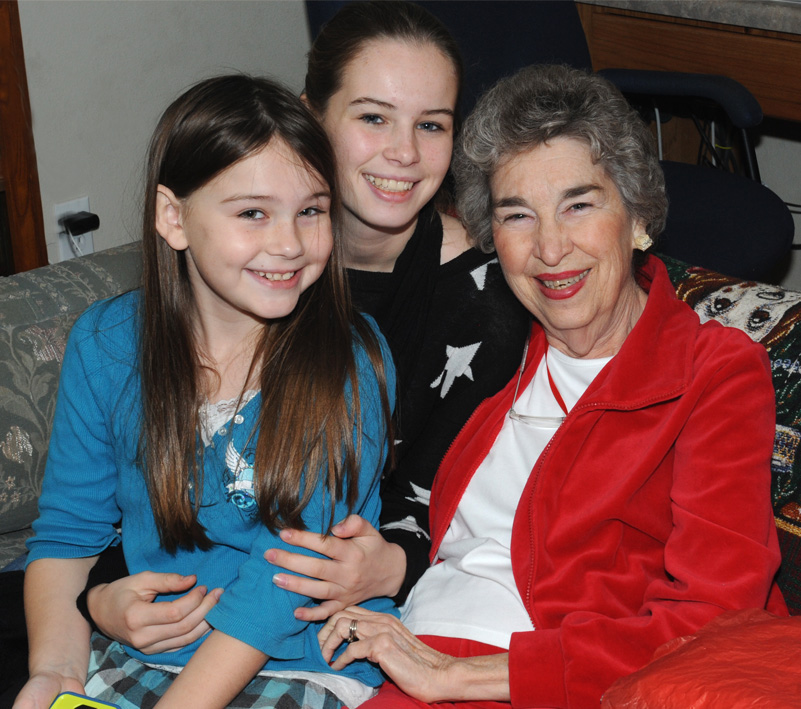 | | |
| --- | --- |
| Elyse is enjoying her new electric scooter that Santa brought her. | |
We're all very appreciative of Darla's baking and cooking of all the great goodies for the Christmas season. Of course we also want them to be protected by a sensitive smoke alarm. But sometimes those two agendas are in conflict. The overflow of a great pecan pie in the oven produced enough fumes in the air to repeatedly set off the shrill, beeping smoke alarm.

So there is Darla, up on a chair to fan the fumes away from the shrill alarm.
Ashleigh and Jordan get carried away singing the theme from "Frozen" at the top of their voices, so Darla again has to stop her ears. I'm afraid we contributed to this situation since we had been playing the "Frozen" CD in the car when they were riding with us.

We greatly enjoyed the Christmas morning time with Jeff and family and were now ready to head over to the Moyle's for Christmas brunch and the gathering of the whole family there.
Index
2014