Mexican Dinner for Sunday School Class
October 24, 2015

Rosa and Angel Suarez created an authentic Mexican dinner for the Sunday School class. We are very appreciative of all their work and creativity, and the help of Chris Suarez as well.
| | |
| --- | --- |
| Angel shows Brenda the guacamole dish they have prepared and put in an ancient stone vessel. | |
| | |
| --- | --- |
| | Angel and Rosa had chosen the menu and prepared the main dishes, and then arrived early to set up the side dishes like the guacamole and salsa with chips. |
| | |
| --- | --- |
| They had some elaborate sombreros, so we used them as part of the table decoration along with the guacamole and peppers. | |
Angel demonstrates the carving of a firm tomato into spiral decoration for a beautiful dish. Brenda and Rosa celebrate the result.
They made of samples of the dishes of the main course and were then ready to receive the guests.

The dishes were tinga, pozole, tacos de pollo, arroz and frijoles.
Angel, Rosa and Chris served the food and the folks spread out to the tables.
The breakfast room was one gathering place with Tony Mode, Mike Anthony, John Ford, Barry Krebs, Pam Long, Cheryl Anthony, Barry Long and Chris Ayers at left. At right, Bob Wade, Gail Wade and Karla Ayers join.
| | |
| --- | --- |
| | We were very pleased to have the families with us. Hopefully these youth got enough to eat. |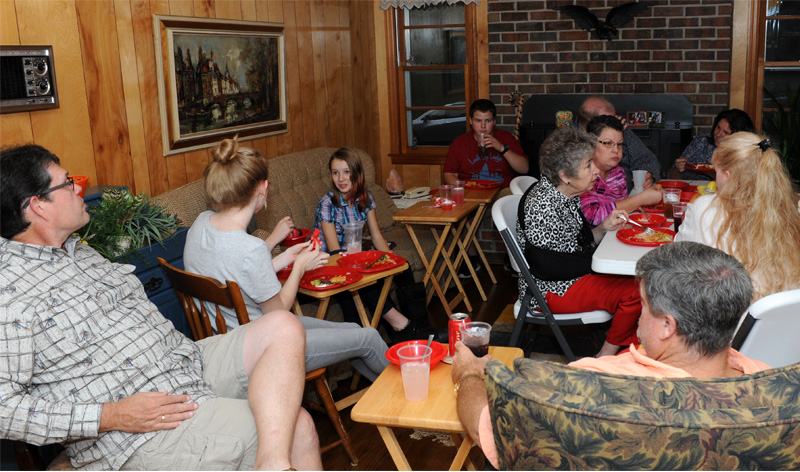 The den collected a good many folks, so I was glad I had brought up the white table for a little more seating to eat.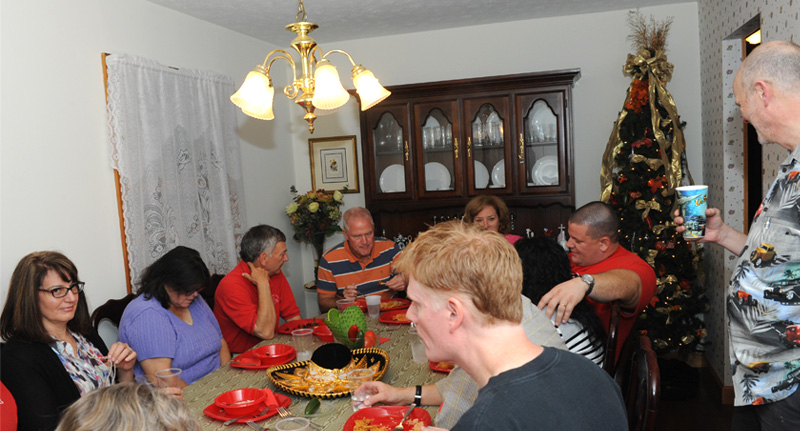 The dining room was another good place for fellowship, and folks cycled around to talk with others.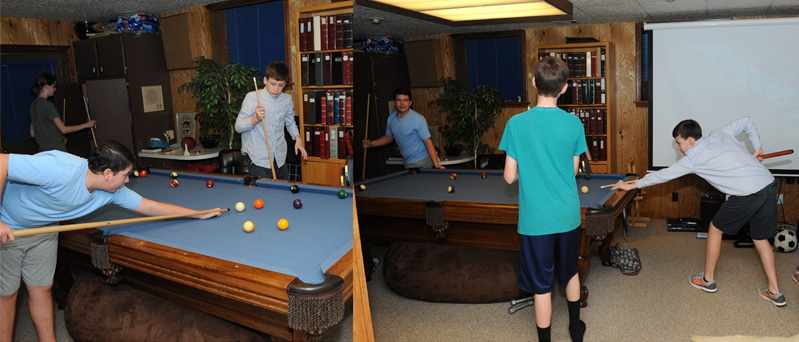 The youth enjoyed the pool table, especially when they first arrived while waiting for the food to be served. They also tossed around a football outside.
It was great to get to see all the kids, and they seemed to have a good time. I put on a nature video at first, but after a while they saw Madagascar on the shelf and asked me to put it in. It turned out to be fun for all the ages. Margaret liked being able to go up and down the basement stair.
There turned out to be a total of 49 people in the house. It was crowded, but a delight. We loved seeing all the fellowship that was going on. Instead of stumbling over each other, everyone was helping each other and doing whatever they saw that needed attention. Praise the Lord for this kind of fellowship together!