Quito, Ecuador Trip
July 4-11, 2015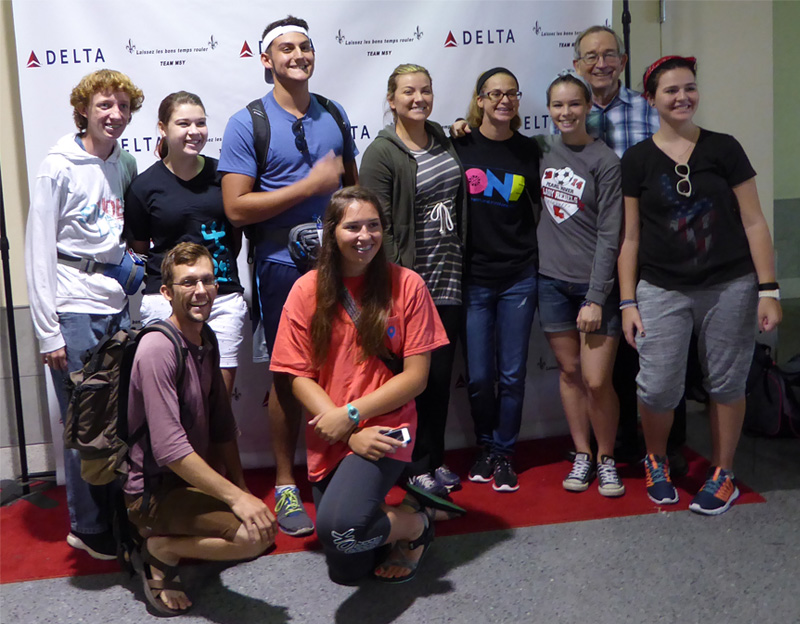 This is our team at the New Orleans Airport before our departure for Quito, Ecuador. Back row: Dustin Jackson, Jordan Nave, Michael Stasney, Jhanne Stasney, Hannah Robert, Ashleigh Nave, Rod Nave, Alex Lockwood. Front: Paul, Abbie Lockwood.
Sunday, July 5, 2015
We were assigned to teams that had members from several churches, which was a blessing which allowed us to form a community of new brothers and sisters in Christ. Our team members were, back row L-R: Kal'el Wright-Jones (Broadview,Chicago), Kaleigh Baughn (Fairview, Apex, NC), TJ Crutchfield (Ebenezer, NC), Jordan Nave (Northshore, Slidell, LA), Aeron Ravelo (North Park, Forth Worth), Grayson Johnson (Fairview, Apex, NC), Haley Edwards (North Park, Forth Worth), Dustin Jackson (Northshore, Slidell, LA). Front row Curt Brady (Broadview,Chicago), Tim Crutchfield (Ebenezer, NC), Leigh Talley (Ebenezer, NC), Rod Nave (Northshore, Slidell, LA). Tim Crutchfield is our Crew Leader for Crew #5. We typically had our crew planning meetings and devotionals on the roof of our building in the Alliance Academy, in view of the city and the mountains. This view is generally eastward over some of the more modern parts of the city.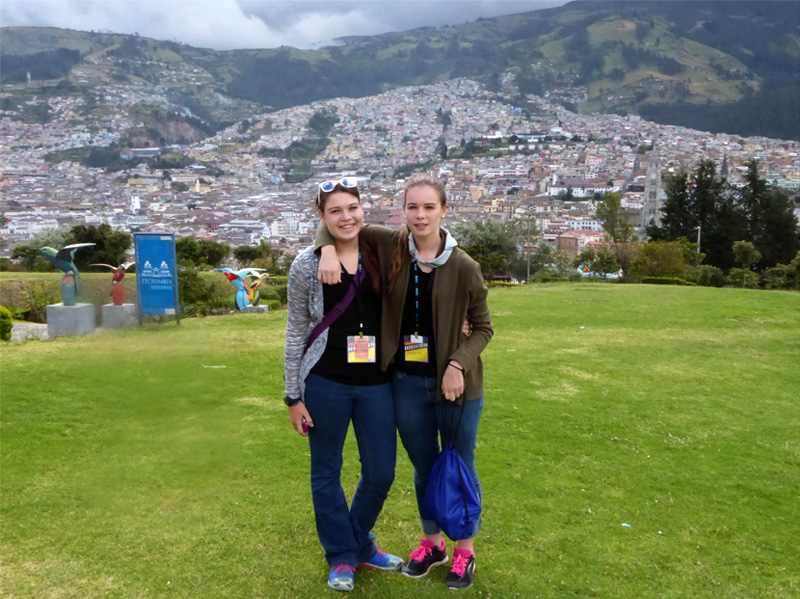 | | |
| --- | --- |
| Jordan and Ashleigh on the green slopes of the high park which overlooks a concentration of more than 20 Catholic churches within the large collection of buildings in this valley. | |
Monday, July 6, 2015
| | |
| --- | --- |
| | After training and crew planning, we prepare to head for La Carolina park for our first day of ministry. TJ, Jordan, Leigh, Curt, Dustin, Kaleigh, Kal'el, Haley, Aeron, Grayson with crew leader Tim with his back turned. |
| | |
| --- | --- |
| | Grayson, Jordan and Aeron had a good basketball game going on the other court with 3 Ecuadorans. |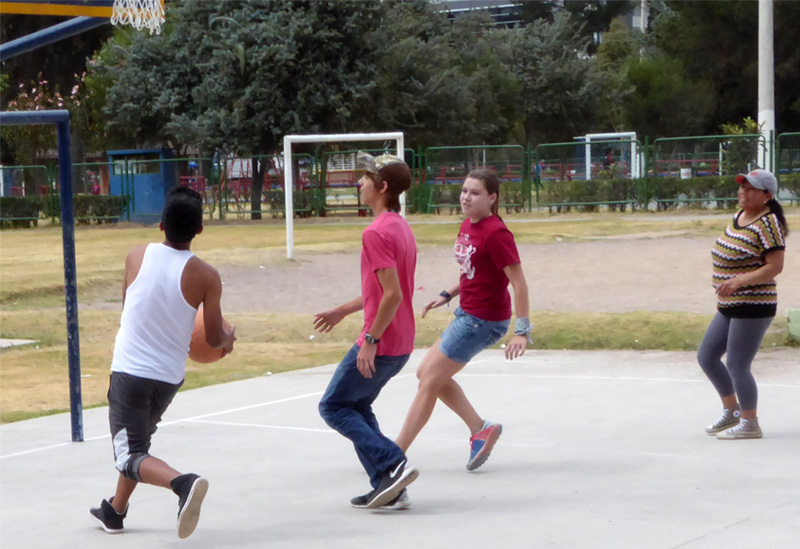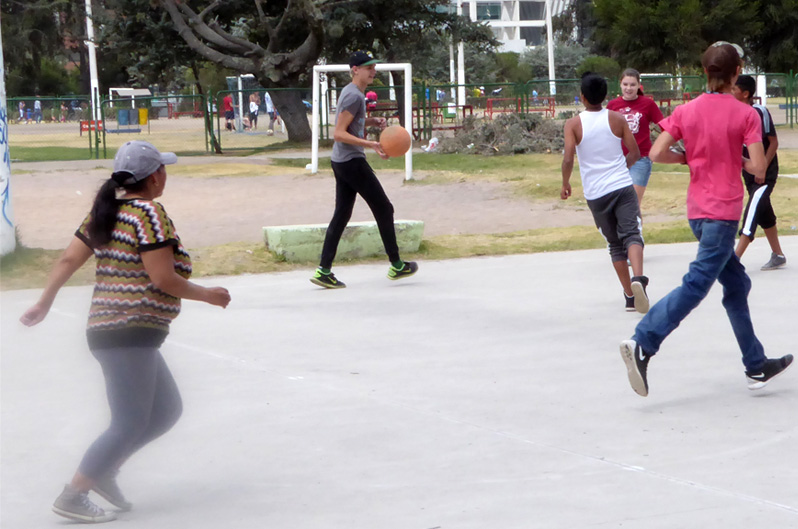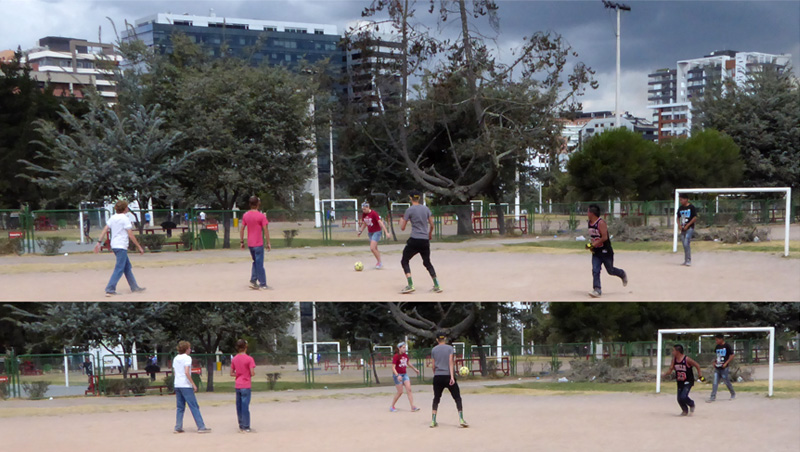 The preference shifts over to soccer for a while with Dustin, Grayson, Jordan and Aeron forming mixed teams with two of the Ecuadorans who had played basketball before.
Tuesday, July 7, 2015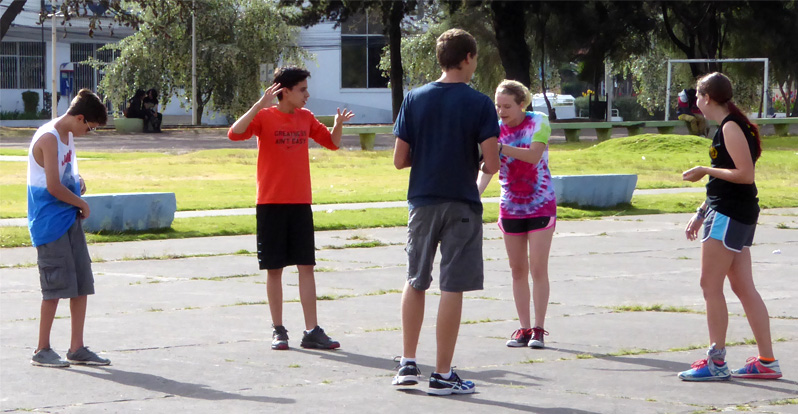 Jordan spent some time playing basketball and just hanging out with these four youth who came through the park. I understood that they were students at the Alliance Academy where we were staying. The caucasian girl had been there only two months, with parents on the embassy staff. The guy in the orange shirt spoke Spanish and was helping her learn, but she was homesick for the friends she had left behind. Tim was sensitive to that, so we had prayer with them, with her particularly in mind, and she seemed very appreciative. We were glad we could have the time of interaction with them.
Wednesday, July 8, 2015
| | |
| --- | --- |
| Jordan and Haley were in the children's class to help. One kid fell fast asleep! | |
Thursday, July 9, 2015
A few of the older adults of the church came to the Bible study along with the youth. Pastor Alfredo made ending comments and led us in a benedictory prayer.

Then, at least partly at the Pastor's initiation, we started making crazy group pictures of the two groups together.
The lady on the left front spoke very good English, and also Alba Vásconez in the pink jacket on the second row who teaches English at a Christian school in Quito. Carlota Ortega on the back right was always great fun. She sang in the praise band.
Friday, July 10, 2015
| | |
| --- | --- |
| When we went back to the church for the beginning of Bible school, Markos and Sandra had brought their little boy again, and he always made a big hit. He gathered almost the whole crew: Jordan, Aeron, Grayson, Kaleigh, Haley, TJ, Mailyn and Dustin. | |
| | |
| --- | --- |
| | After the opening ceremony, Jordan with the children's group where she is helping. |
| | |
| --- | --- |
| Kaleigh, Jordan and Kaleigh helped here. It appears that the number of kids has increased so much that they moved downstairs to this bigger room. What I saw here in terms of workers and materials certainly was a sign of a healthy church program. | |
| | |
| --- | --- |
| | Haley, Jordan, Mailyn and Daniela helped with the painting of the children's hands for making handprints on a poster. |
| | |
| --- | --- |
| When Jordan and Haley visited the basketball court, they enjoyed playing with Markos' little boy. Grayson joins them. | |
| | |
| --- | --- |
| | The little one seems to be enjoying the attention. |
Saturday, July 11, 2015
| | |
| --- | --- |
| | Playing pool in the recreation center next to the dining room at the Alliance Academy. |
Index
2015