Return Trip from Utah
Bryce Canyon to Green River, Utah
November 3, 2016
On November 3, we had made an early morning visit to Kodachrome Basin State Park and then a visit to Bryce Canyon National Park. Leaving Bryce Canyon, we headed west on Hwy 12 and had lunch along the way. We had asked in Cannonville which route they would recommend to Green River since there were three routes that showed up with almost identical travel times when we looked at map programs. They said that all the locals went the route up 89 to I-70, so we took that advice. We joined Hwy 89 about 3pm.
| | |
| --- | --- |
| We turned north on Hwy 89, and it was certainly a wide open highway through a dry valley along the Sevier River, the longest river entirely in Utah. We enjoyed the open ranch and range land, but mostly I just kept driving because we had a lot of miles to cover to get to Green River. | |
We joined Interstate 70 at Ritchfield and bought gas there. At Salina we got the signs warning "No services for 106 miles". So we headed across the desert region toward Green River. From the beginning of the trip we had planned to stage to Green River this night so we wouln't have to add that hundred miles of desert to our trip to Denver the next day.

We buzzed across the open desert with its wide open fourlane highway and 80mph speed limit and didn't do any photography until we reached these interesting rock formations about 30 minutes out of Green River.
About 5 minutes later we moved out of that region of so many rock formations and back onto open highway which was similar to what we had been seeing all the way from Salina. The exception was these isolated rock tables that I liked.

We entered an area with winding roads and steep downslopes, and I was already thinking about the similarity to Monteagle, Tennessee when we encountered this sign indicating a runaway truck ramp.
When we came to the ramp, it was almost identical in structure, slope, etc to the ones on the slopes of Monteagle. Except of course that this one is in desert, and the one in Tennessee is on green forested mountains.
A couple of miles further along was another runaway truck ramp, and both of them had been used recently to stop a truck. So this area is indelably planted in my mind as Utah's Monteagle. I used the runaway truck ramps of Monteagle to teach about stopping distance in HyperPhysics.
| | |
| --- | --- |
| The winding roads and steep downward slopes continued for several miles, and here they wind through some rock formations. | |
The road flattened out and straightened, and withing fifteen minutes we were in Greenriver. In this view you can see the green of the Green River valley in the distance. We found our motel and settled in for our last night in Utah. We reached Green River about 6pm, so about 3hr from the time we turned onto US 89 over west of Bryce.
We enjoyed this nice sunset about 6:50pm. Note the crescent moon and a single bright star (planet).
Green River, Utah to Denver, Colorado
November 4, 2016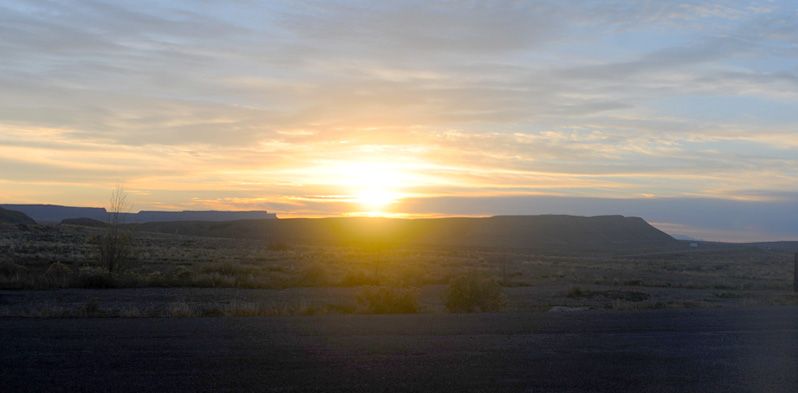 We awoke to sunrise over the long ridges to the east of us, where we would be traveling before long. But first we drove back down to the West Winds Restaurant about 7am and had a very nice breakfast. That was the same restaurant at which we ate two days ago before taking off to Capitol Reef. The lady who waited on us was apparently a native who knew just about everyone who came in. She told us that Moab was now so intensely devoted to tourism for the area that many of the locals could no longer afford to live there. Prices were high on everything, and when Brenda told her we paid $99 for our room she said that this was very cheap for Moab. It was usually between 200 and 300. The place is very crowded during the season, and she said some even stayed in Green River and drove back and forth. It is close to 50 miles.
When we dropped back by the motel after breakfast to load up for the trip, there were several vehicles in the parking lot with a variety of off-road vehicles, obviously ready to head out. We asked about the group and found that it was a club which got together regularly to go out into the open places. In response to where they were headed, we were told "out there", so they were going out to explore somewhere off road toward Moab. It certainly was a great place to do it.
| | |
| --- | --- |
| | We headed out onto wide open I-70 about 9am with a mountain range ahead of us. |
About 45 minutes east of Green River I took this view of I-70, and it could be used to show what most of I-70 looked like from here all the way back 150 miles to Salina.
While the previous picture was the standard view, the exceptional views like this valley of humps added interest to the journey. At this point we were 34 miles out of Grand Junction and 277 miles from Denver. We crossed the Colorado line 2 minutes later.
| | |
| --- | --- |
| We encountered more hills and building mountains as we entered Colorado, and about an hour into our trip or 15 minutes into Colorado we started running along the Colorado River. | About 30 minutes later we started encountering eroded wall structures along the north side of the road. |
The walls grew until we were running between the wall and the Colorado River.
Things got more complicated as the Colorado River kept swapping sides of the road, and we even left it to go through a tunnel at one point.

At this point about 2 hours into the trip, we left the Colorado River and had open roads among these wall structures.

But in about 30 minutes we were back beside the river in some farm country, and the character of the mountains had changed to smooth forested mountains.
Glenwood Canyon
The sequence below is of Glenwood Canyon, the most complicated example of building an expressway through a canyon that I have seen.
The two roadways were sometimes beside each other, sometimes one over the other, and sometimes at different levels.
At this location, the upper lane goes through a tunnel, while the lower one hangs out over the river.
It was like the whole landscape sighed with relief when the torturous roadway finally came out of the canyon.
| | |
| --- | --- |
| | It was 40 minutes more to Vail. We reached the Vail exit, which would have been very familiar to Jeff from his ski-lift days, but not like this. On Nov 4, there was still no snow! That was of course fortunate for us southern drivers. Of course the skiers were disappointed. |
| | |
| --- | --- |
| We were still talking about the lack of snow at Vail ten minutes later when we encountered snow by the roadside and a very attractive deposit on the mountain top. | |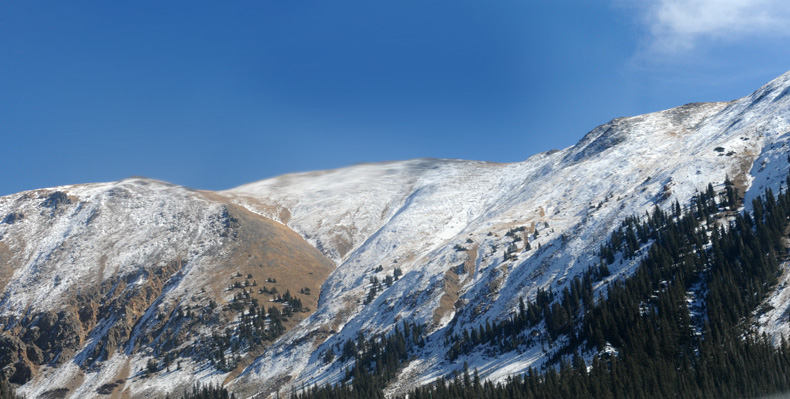 Some of the most attractive snowy mountains we saw were very close to Denver in the Silverthorne area.
It took us a little over five hours to get to the western edge of Denver, but then we navigated all the way across Denver to our motel in Aurora, close to the Airport, with the aid of the GPS on Brenda's phone. After settling in at the motel, we headed south to the Aurora Walmart to see if we could get a wheel cover for the little rental Nissan. In our tire mishap, we had broken a chunk out of the plastic wheelcover. We figured that it would be better to replace it than be at the mercy of the rental company's judgment on a fair cost. It turned out that the Walmart was out of that size wheel cover, but an employee there said he had two of that size wheel cover at home in his garage from a car his sister had owned. He went home and got them and I paid him $20 for them. One of the other wheelcovers was also broken when we rented the car, but we didn't notice it. So that worked out ok for us to have the car completely repaired when we returned it.
When checking out from Walmart we talked with a nice couple from Nigeria. They live in Denver, but had started a school for underprivileged in Nigeria called Pious School or some variation. I mentioned Samson Shiyanbola, and they knew Ede where he was from and knew Ogbomoshaw.
We settled in for the night and returned the rental car at 8am the next morning. We had a smooth flight to Atlanta and were picked up at the airport by Mark, so we were pleased to have a visit with him.