Awana Picture Night
November 1, 2017
This was the night for our annual picture of the Awana boys and girls. We have a series of several years of such pictures on the wall of the "Depot", our children's area.
| | |
| --- | --- |
| | This is the left side of the group of 41 boys and girls by my count. |
| | |
| --- | --- |
| This is the middle of the group in front of the train. Eight boys and girls out of the whole group are in our 2nd grade group. The whole group covers grades 1-5. | |
| | |
| --- | --- |
| | This is the right side of the group. |
We promised the kids a crazy shot if they would be good for the more formal shots. They were very good and cooperative to give us nice pictures of the whole group earlier.
The Awana leadership team. Front row: Jennifer Bentley, Kelly Smith, Lana Ebert, Jesslyn Frater. Back rows L-R: Johnny Huffman, Carol Durand, Lorraine Shaw, Edna Goldsborough, Kelly Thompson, Brenda Speight, Heather Daniell, Billy Ridgway, Leah Cobler, Rod Nave, Ruth Floyd, Brenda Nave, Elaine Ridgway, Billy Ridgway, Jon Rowland.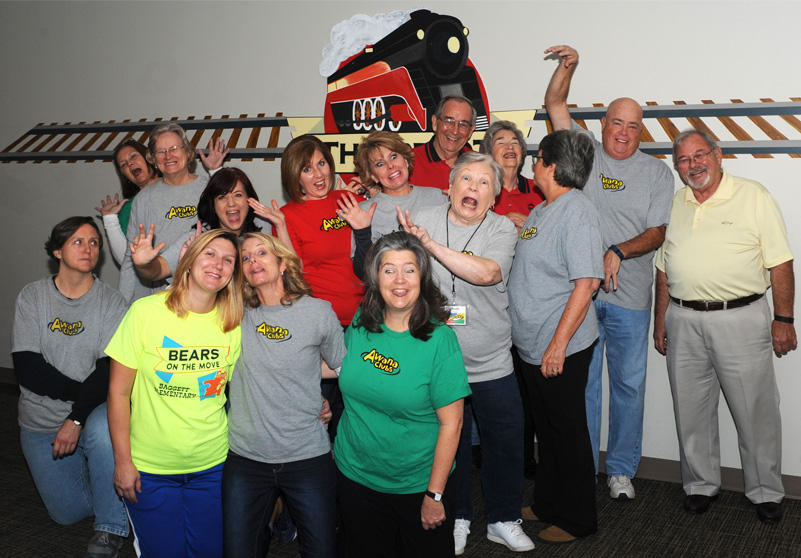 Since we had let the kids do a crazy picture, we thought to let the leaders show them how it was done. Note that the saner members of the leadership team had made their exit.
I threw Brenda in front of the train to check out exposure before the picture session.

Brenda and Rod Nave and Barbara Porter work with the Second Grade Awanas.
| | |
| --- | --- |
| | I think this is Kindergarten Sparks. With Janet Vineyard and Becky Ridgway. |
| | |
| --- | --- |
| The Cubbies with Lori Pulliam and Wanda Willey. | |
Index
2017