Summer Activities 2017
| | |
| --- | --- |
| | May 26. On the day that Brenda, Rod and Chris took off for Spain, Jeff and family were on the beach for a short vacation before Ashleigh and Jordan took off for the summer. Elyse, Ashleigh, Darla and Jordan sent us this with their prayers. |
| | |
| --- | --- |
| On May 31 Ashleigh was at New Orleans Airport ready to take off for the Kenai Peninsula in Alaska for her mission activity for the summer. | |
| | |
| --- | --- |
| | June 9. On the day that Brenda, Rod and Chris returned Spain, Jeff and Elyse were with Jordan at the airport as she prepared to take off for Quito, Ecuador for her mission work for the summer. |
June 17. Ashleigh went fishing with two friends, but when this bear appeared, they decided to postpone the rest of their fishing trip.

What we heard was that Ashleigh was setting up her camera to take a picture of the three of them. One of them said "Ashleigh, look up!"
On June 29 Ashleigh sent this from her visit to Exit Glacier near Seward, Alaska.
July 2. Jordan sitting on the Equator line in Quito, Ecuador.
| | |
| --- | --- |
| | July 19. Jordan and a friend hike across a wooden-plank swinging bridge over a stream. The stream is pretty strong, so may be quite a bit down the mountain from Quito. |
| | |
| --- | --- |
| Jordan in a pool below a waterfall. Looks like a jungle setting. | |
| | |
| --- | --- |
| | Ashleigh sent us this sketch of her surroundings near Grizzly Ridge, the place where she is staying. From the sketch, it appears that Grizzly Ridge is visible in her mountaintop photo below. Sacketts is the place where she is working. |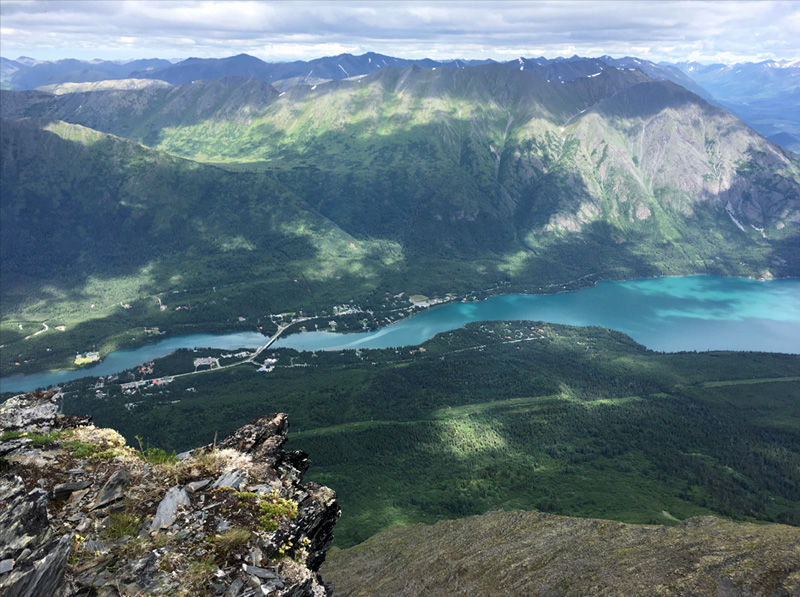 Just the day after Jeff and Darla returned from their Alaska visit, Ashleigh climbed the mountain behind Grizzly Ridge on July 21 and sent us this amazing view down on Cooper's Landing.
Index
2017