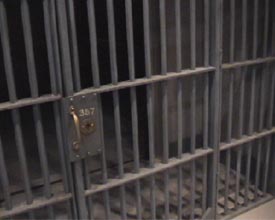 Do you think you could break out of a door like this?
In reality, you probably could. The bars are made of 1-inch thin-walled metal electrical conduit, the cross-members are 3/8 medium density fiber (MDF), the door handles and locks are light molds, and the heavy rivets are wooden buttons. The thin conduit is essentially the only metal in the doors.
Mark worked on cutting and assembling the bars and door structures here.