Morgan's Birthday
On January 8 we traveled to Roswell to join in the celebration of Morgan's second birthday. It was a joyful occasion with an amazing amount of life and enthusiasm in the little ones who joined in the party.
Two-year old Morgan seemed to thoroughly enjoy everything. Here are Suzanne, Michael and Ethan along with the birthday girl.
Philippe and Mary Sue had come down from Cleveland, Tennessee to join in the celebration. Ethan and Morgan seem happy to be with Grandpa and Grandma.
| | |
| --- | --- |
| This offered a good opportunity for Phillippe and Rod to visit - it doesn't happen too often even though we are only a little over a hundred miles apart. | |
This has my vote for best picture of the day. Brenda shot this one of these sisters as they arrived for the party. This captures the spirit of the day - it was very loving and very joyful.

All the children arrived happy and seemed to enjoy themselves. Lots of life and personality in small packages.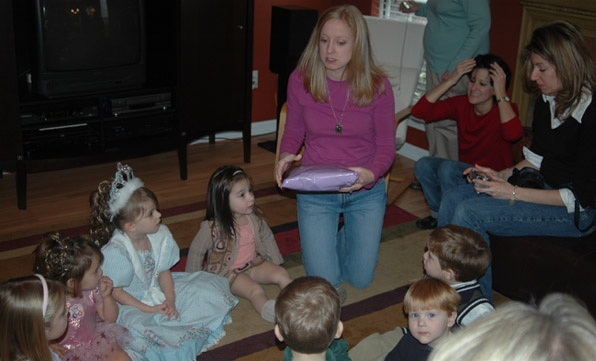 Suzannne got the children in a circle on the floor for a game of pass-the-package. When the music stopped, the person holding the package got to open one layer of it to get a prize. There was a layer for each child, so each child wound up with a treat before the final layer provided a bigger prize. Pretty creative!
There were other musical games and at one point we got all the children on the couch for a picture. They were extraordinarily well behaved and seemed to have fun with everything.
| | |
| --- | --- |
| | The children gathered at the table for pizza and Morgan got a special birthday hat. |
| | |
| --- | --- |
| | After her pizza at the children's table, Morgan comes to try to get some of Grandpa's. You would imagine that her chances are pretty good at getting anything she wants from Grandpa's plate. |
| | |
| --- | --- |
| The experience with Grandpa seems to be pretty pleasing to Morgan. But he does manage to get a disapproving scowl out of her when she tastes the onion in his salad! | |
| | |
| --- | --- |
| After pizza, its time for cake! | |
| | |
| --- | --- |
| | After showing off the cake, two candles were lit and Morgan blew them out with a single puff. |
| | |
| --- | --- |
| After getting her cake, Morgan was a study in complete concentration for the next 10 minutes as she ate her cake. All this in a whirl of happy children and mothers. | |
| | |
| --- | --- |
| | As things begin to calm a little, Grandmother Mary Sue gets a photo-op with Ethan. Ethan and Morgan even get a quiet moment to play together. |
| | |
| --- | --- |
| We were privileged to be a part of Morgan's special day, and enjoyed all the beautiful children. | |