Associational RA Racer Derby
March 5, 2005
Paco Nava and Kevin Lopez represented Mableton First Baptist as the Associational RA Racer derby held at Lithia Springs First Baptist.
Francisco Nava with Paco and Javier Lopez with Kevin as they wait to register for the race.

Paco's car at right end.

Kevin's car at right end.
Paco raced in the younger Lad group and Kevin in the Crusader group. Paco's car weighed in at 5.01 ounces, and the removal of one sticker brought him into weight. Kevin's car was at 5.04 ounces, so we had to remove all stickers and then drill out a bit of wood from the bottom of the car.
| | |
| --- | --- |
| | Paco places his car on the track for his first race. Each boy raced three times, once in each lane, and their times were recorded by an electronic timer. |
| | |
| --- | --- |
| Paco watches the finish of this race in which he is in the lead by two car lengths. | |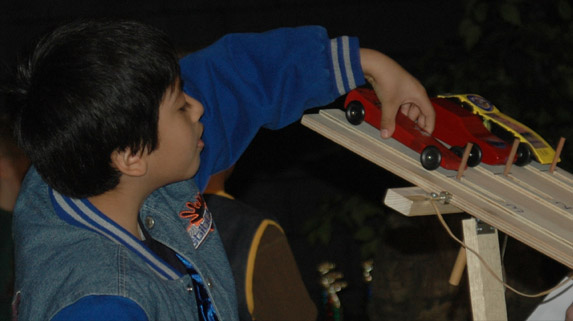 | | |
| --- | --- |
| | Paco places his car for his last race. |
| | |
| --- | --- |
| This time Paco is trailing in a very tight three-car race. | |
Paco (Francisco) Nava ends up at rank 10 in a very close race. The first place car was exceptional at a average time of 2.519 seconds for three races. The second place car was at 2.556 seconds and Paco at 10th was at 2.603 seconds, so car #2 and car #10 were separated by only 0.047 seconds or 47 milliseconds. That's pretty close!
| | |
| --- | --- |
| | Kevin is at the starting gate for the Crusader race. |
| | |
| --- | --- |
| | Above, Kevin lines up for his final race. At left is the record of one of his races, which he won with a considerable lead. He ends up at rank 8 with an average time of 2.599 seconds. The first place time was at about 2.52 seconds. |
Index
2005