Carlsbad to Brownfield and Back to Atlanta
May 21-22, 2007
| | |
| --- | --- |
| | From the elevated location of the Carlsbad Caverns entrance, you can look to the lower desert plain in the distance. We were told that the location of our tour, 750 feet below the surface, was about at the level of that distant plain. |
Click on the small images for different parts of the Carlsbad trip.
| | |
| --- | --- |
| On the way from the Caverns to the town of Carlsbad, NM, we passed this active drilling rig in operation. Phyllis' son-in-law said the cost for a new well was about a million dollars, so it's a big loss if they don't find anything. Once they strike oil, an electrically operated reciprocating pump and storage tanks are installed. | |
| | |
| --- | --- |
| | The above image characterizes a lot of southern New Mexico and extreme west Texas. After an oil well comes in, the pump is placed on it and storage tanks are built. Electric lines crisscross the open spaces to power the oil pumps. Periodically, tanker trucks like the one shown visit the tanks to collect the oil. Note the desert vegetation stretching to the horizon, and the barbed wire fence in the foreground. We saw this scene repeated lots of times. |
We returned to Brownfield and were able to visit with Janet briefly at her work before we headed out toward Abilene. You could certainly find places around here to suggest the name Brownfield - this brown field stretched to the horizon, broken only by a single farmstead in the distance.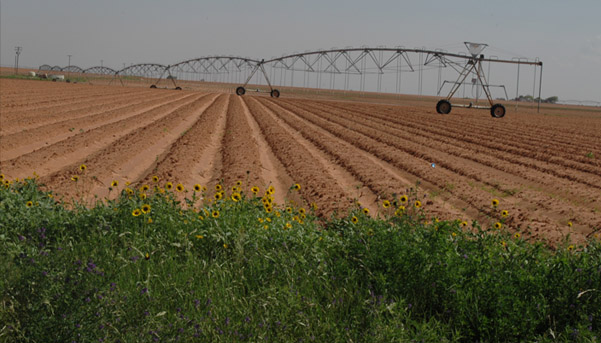 | | |
| --- | --- |
| | On our way out of Brownfield toward Post and Abilene, we got the above view of one of the huge irrigated fields above that characterize the agriculture of the area. From the satellites, the results of those rigs produced the circular patterns shown at left. |
Proceeding south from Post toward Abilene, we were back in an area of active oil production. The railroad paralleled the highway, and we saw strings of rail tanker cars, presumably the next step up from the tanker trucks that visit the holding tanks by the wells.
On the highway to Abilene from Post we came upon this ridge that had dozens of big wind machines along it. We were looking over open land with lots of wild yucca plants.
| | |
| --- | --- |
| | We spent the night in Abilene before proceeding to the Dallas-Fort Worth Airport and back to Atlanta. We were fortunate to be out in west Texas in the spring when there is such a profusion of wildflowers. We enjoyed fields of the yellow flowers and fields that were mixed with the red and yellow variety. May 22. |
Index
2007