Vacation Bible School at First Baptist Mableton
June 4-8, 2007
"Game Day Central"
This years theme uses sports to draw analogies and lessons for the game of life. Russ Danser starts things off with the use of the two huge inflated footballs and his assistant "Dodge Ball" Doug tosses one of them out to the group. After the opening group session led by Russ, the kids head out by school grade groups to one of the special emphasis locations. They cycle through the different groups.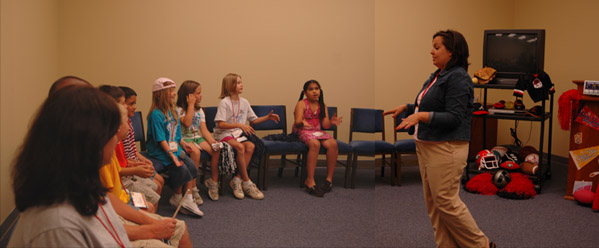 Jennifer Ridgway led the Missions emphasis group.
Four of the members of this group using the game theme to emphasize topics from missions.

Melanie Durity leads this craft location with help from Joe Burkhardt. Peggy Jo Boyles is the group leader for this group which is cycling through this location.
Ruth Floyd is dressed as the coach in the locker room and talks about the "Wall of Fame" and who are the real superheroes as a way to do Bible teaching.
April Ludwick leads a musical session for this young group.

Karla, Caitlyn and Danielle led the musical group for the theme music and choreography. They showed a video of it, and this group really got into it quickly.
Pretty impressive! This group got the motions and the music down in a short time.
Jeanne Boyd leads a craft group. They were very proud of what they had done when they came out.
David and Derinda Moore had constructed an outstanding locker room for their session. The kids settled right into it and had a great time.

The final ceremony for the day alternated between very loud and surprisingly quiet under Brother Russ's leadership. They had learned the moves and could follow the songs, so things are off to a good start.
| | |
| --- | --- |
| | Thanks to Becky Ridgway and Susan Danser for handling registration and helping with overall coordination. |
Index
2007