RA Overnight to Bent Tree
January 11-12, 2008
We left Mableton First Baptist Church on Friday night at 6pm to go with 16 men and boys up to the Bent Tree house for an overnight outing. The above photo is of the group at our usual final picture setting on the dam of Lake Tamarack. From left: Oscar Escobar in back, Adrian Sanchez front, then Evenor Vasquez in back with his son Isai and Christopher Suarez in front, next Stan and Johnny Huffman, the RA Leaders. Next is our Hispanic Pastor, Javier Lopez with his son Kevin. In front is Carlos Escobar, then Angel Suarez in back, Humberto Vargas back and Oscar Escobar Jr. front. Next are Paco Nava and his father Francisco Nava. Rod Nave on right.
| | |
| --- | --- |
| | We left the church with three vehicles a little after six and made it to the house about 7:30. Brenda had gone up early and had cooked hotdogs and a big pot of chili for us. After we got the kids fed and settled, the men line up for food. |
It was a good time for relaxing and games after supper. Evenor Vasquez plays dominoes with his son Isai. Ping-pong was popular. Paco Nava and Carlos Escobar on the left face Oscar Escobar and Adrian Sanchez right.
| | |
| --- | --- |
| | Stan and Johnny Huffman get in a lively game of Uno with Christopher Suarez and Kevin Lopez. |
The men gather at the table for a game of cards that reportedly lasted until nearly midnight. Adrian Sanchez, Oscar Escobar, Angel Suarez, Javier Lopez and Francisco Nava. Brenda fixed a breakfast of scrambled eggs, sausage gravy, biscuits and bacon for the men and boys. She made a pan of cinnamon rolls and used them to celebrate Johnny's 59th birthday on this day.
| | |
| --- | --- |
| | As soon as as the boys finished breakfast, they jumped right back into a game of Uno. |
| | |
| --- | --- |
| The men spent a little longer at the breakfast table, and finally Brenda sat down with them for some breakfast for herself. Clockwise from Brenda are Francisco Nava, Oscar Escobar, Angel Suarez, Javier Lopez, and Evenor Vasquez. | |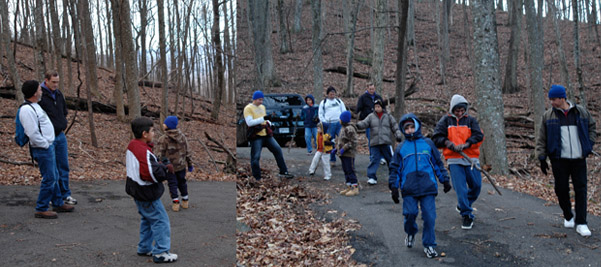 We finally got everyone through breakfast and headed out down our driveway for our hike up Big Stump Mountaina and to the top of Mt. Ogtlethorpe. It is fully winter now and all the leaves are off in this hardwood forest.
This is our traditional picture spot at the top of Buckskull Court as we head out on our hike with the 16 guys. Left to right: Rod Nave, Humberto Vargas, Johnny Huffman with Javier Lopez and Kevin Lopez in front, Francisco Nava with Oscar Escobar Jr in front, Oscar Escobar Sr, Adrian Sanchez with Paco Nava in front, Carlos Escobar, Isai Vasquez in front, Stan with Christopher Suarez in front, Evinor Vasquez and Angel Suarez.
| | |
| --- | --- |
| I had tried to describe in Spanish the death of the chestnut trees in the chestnut blight of 1927 since we walked right by one of the big chestnut logs at right. So Johnny was asking Javier to translate my comments into English and they had a good laugh about that. | We hiked probably a half mile up Chestnut Cove Trail and then headed up a rocky draw to get to the ridge we follow up to the top of Big Stump Mountain. |
We made it up the steep rocky draw and then had another steep climb up this ridge on our way to the top of Big Stump Mountain.
We made our rest stop and got water at the rocky ridge line that circles Big Stump Mountain like a belt. We had made it through the most strenuous part of the hike.
We reached the top of Big Stump Mountain under clearing skies and took a short break. Oscar and son Carlos act out exaggerated exhaustion. Christopher Suarez gets a launch up our old climbing tree by Stan. This tree is located close to the top of Ogtlethorpe Mountain. Chris's father Angel also has a go at the tree, as did several of the other men.
| | |
| --- | --- |
| | Evenor goes up the tree and we hand up his young son Isai, the youngest of our group at 5 years old. Francisco gives Oscar a start up the tree below. |
We spent the better part of 30 minutes at this one tree with both boys and adults having a go at climbing it. Johnny and I exchange knowing glances because we have been using this tree as part of the entertainment of the hike up Ogtlethorpe for probably ten years with a succession of boys.
We reached the top of Ogtlethorpe Mountain and stop for water and apples at the overlook in view of the houses of Big Canoe and the distant mountains.
| | |
| --- | --- |
| | We headed down from Mt. Ogtlethorpe and stopped off at the house on the top of Big Stump Mountain where you can see Lake Tamarack and the sweep of Bent Tree. To the right of the boys you can see the lake. The boys at left are Isai Vasquez, Paco Nava, Oscar Escobar, Kevin Lopez, Christopher Suarez and Carlos Escobar. |
| | |
| --- | --- |
| We now headed down the steep service road to the pump shed and then over the edge to the steepest part of the whole hike, the drop down to the back of our house. | |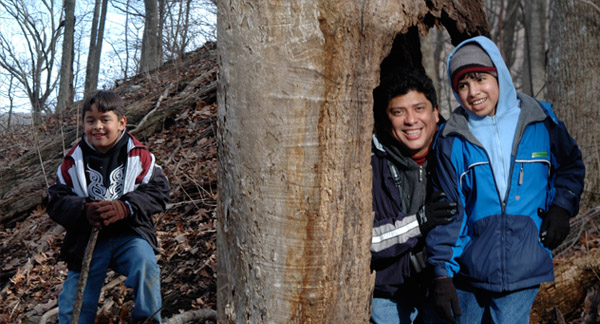 Oscar Escobar Jr. makes it down the steepest slope. Javier and Kevin Lopez stop off at a big hollow tree above the house.
We left the high altitudes and drove toward the lake for lunch. We passed this beautiful fawn along the road. I reckoned that it had just lost its spots and put on its winter coat.
| | |
| --- | --- |
| | We drove to the spillway for lunch and were pleased to see water in the spillway again after the long drought. The falls were fuller, but Evenor still found a way to get to a central rock where it looked like he was sitting in the middle of the waterfall. |
After taking our final photo at Lake Tamarack, we headed back toward the Atlanta area.
Index
2008