Celebration Service for Charles Hobson
March 7, 2009
After the graveside service, we moved to the church where the folks of Charles and Wanda's church had prepared a nice meal for the family. We took the opportunity to make some family group pictures before the service.
At the luncheon all four of Bob's children were together: Will, Missy, Rachael and Emily behind. Of the four, we had only met Will and Emily before, and that was when Emily was 18 months old! Wanda and Rod at right above at the luncheon.
Danny, Becky, Mary, Stephen, Bob, the children of Charles and Wanda Hobson.
Wanda joins her children.
| | |
| --- | --- |
| | Stephen and Marsha Hobson with Sarah and Joshua. |
| | |
| --- | --- |
| Danny and Wanda Hobson with daughter Fawn and grandson Kenneth. | |
| | |
| --- | --- |
| | Charlie and Becky (Hobson) Wheeler and daughter Heather. |
Bob and Sherree Hobson and family. L-R: Will, Sherree, Emily with Benjamin, Bob, Missy, Rachael with Madilyn.





We didn't get Mary and John and family together until after the service, so they are pictured below.
| | |
| --- | --- |
| | We got Wanda back into the picture with Bob's family. |
| | |
| --- | --- |
| Harold and Elma Hobson and family. Harold is Charles' brother, and we had visited he and Elma at their home in Port Orford, Oregon back in 1993, but had not met any of his family until now. L-R: Kit (Jim's son), Jim (Harold's son), Harold, Elma, Barbara (Harold's daughter) and her husband John. In front is Tom, Harold's son. | |
| | | |
| --- | --- | --- |
| | At 1 PM we moved to church sanctuary for the celebration service. At left is the picture of Charles that had been displayed at the family visitation and was displayed in the service. It is a great one to capture his spirit - even the twinkle in the eye that speaks of a sense of humor. Mary did a wonderful job of coordinating the service. Her eloquent words captured well the nature of the man we had known, and she sang one of his favorite songs, Via Dolorosa, in both English and Spanish. She also greeted the sizable Spanish group with her fluent Spanish to honor their attendance. | |
Charles spent 59 years as a pastor in Arkansas, Oregon, and California. He spent 15 of those years in South America as a missionary serving in Colombia, Paraguay, and Argentina.

He retired to Woodland in 2003. He served the Woodland United Fellowship Church as a pastor to seniors, and was a volunteer chaplain for Woodland Memorial Hospital. He was also deeply involved in the Spanish Church, Principe' de Paz.
Darcy Hill sang "May All Who Come Behind Us Find Us Faithful", which seemed so appropriate in light of Charles' life. L-R: Darcy, her parents Gene and Sherry Pittman (Sherry is Charles' youngest sister), then Charles' sister Patricia Mead.

We continued with some family photos after the service.
| | |
| --- | --- |
| John Kilpatrick and the young ones. From left Dasha, Roy, Danielle, Julie, Christi and John. | |
| | |
| --- | --- |
| | Mary joins to complete the Kilpatrick family. |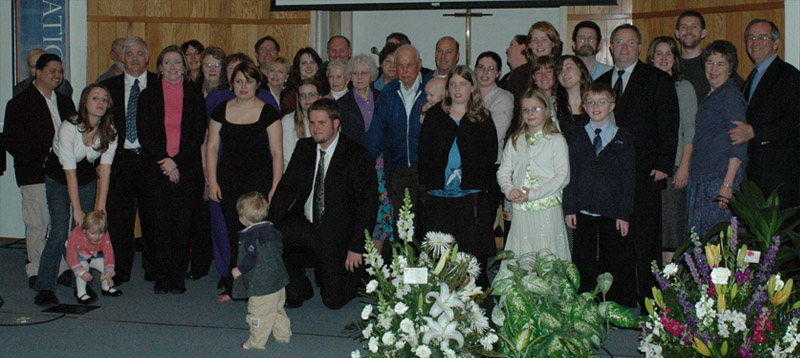 We had a go at getting the whole family group together. I think you could say we were united in spirit and love of family on this day of memory.
Index
2009