RAs to Bent Tree
June 6, 2009
This one's too small. Let's toss him back!
But we didn't! When Hunter Rowland was the only boy who showed up for the RA Breakfast and trip to Bent Tree, Stan, Johnny Huffman and Rod headed out to the mountains with him. Hunter had strep throat for one previous trip, and had another hindrance on another, so he was looking forward to his first trip with us.
The welcome sight of the green mountains on the entrance road to Bent Tree. We had a leisurely breakfast of pancakes and sausage with Hunter and his Grandpa Jon Rowland. Brenda had come over so she and Jon had lots of remembrances of the Mableton area when they were growing up here.

The tower that you can just see marks for us the location of our house, just a short hike downhill from that tower.
| | |
| --- | --- |
| We always enjoy seeing the deer, and this one was cooperatively browsing on the bank above the road as we drove down to the lake.. | |
Hunter enjoyed catching some of the abundant tadpoles that were in the shallow water close to the beach, and we enjoyed watching the yellow swallowtail butterflies.

We watched turtles on a log across the lake.

I enjoyed watching the chipmunks playing around their holes, and the now tiny varieties of wildflowers. The largest of these is about a centimeter across.
| | |
| --- | --- |
| We drove over to the spillway side of the lake and had our lunch next to the waterfall. | |
| | |
| --- | --- |
| | We went down to play around in the deep pool at the bottom of the waterfall, though it was shockingly cold the first time you jumped in. |
| | |
| --- | --- |
| The falls were running extraordinarily strong after all the rain we have had. When we tried to swim to them, the strength of the flow stopped you a few feet short of the falls. | |
| | |
| --- | --- |
| | Johnny dives in for another run at the waterfall. |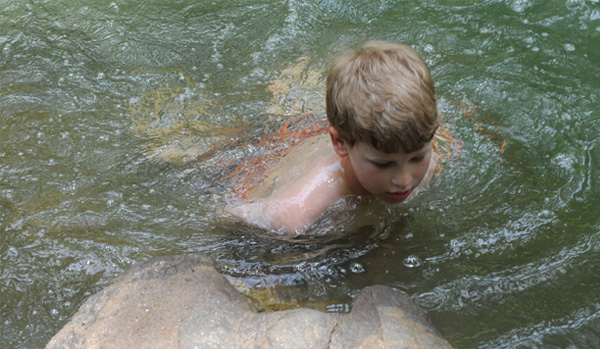 Hunter works up to swimming across the end of the deep pool to the rocks.
The traditional picture on the Bent Tree Dam on Lake Tamarack.
It was an enjoyable day of water recreation, and we praised the Lord for the opportunity to enable Hunter to have this experience.
Index
2009