Pearl River Trip
Mar 10-14, 2010
| | |
| --- | --- |
| | We drove down to Pearl River, LA to visit with Jeff and family during Rod's spring break. We stayed with them, so we were available to read and watch videos with the girls. Brenda watches a Veggie Tales video with Elyse. March 10. |
There was a lot of soccer on the agenda this week. On Thursday Mar 11 Darla helps Elyse adjust her shin pads for her game Thursday evening. Darla coaches the Under-6 team on which Elyse plays. Caleb also plays on this team. At right, Coach Darla puts her team through some pre-game exercises. Elyse in center and Caleb on right.
Darla huddles her team before the game.

Below she sets her starting lineup on the field with Caleb on the left end.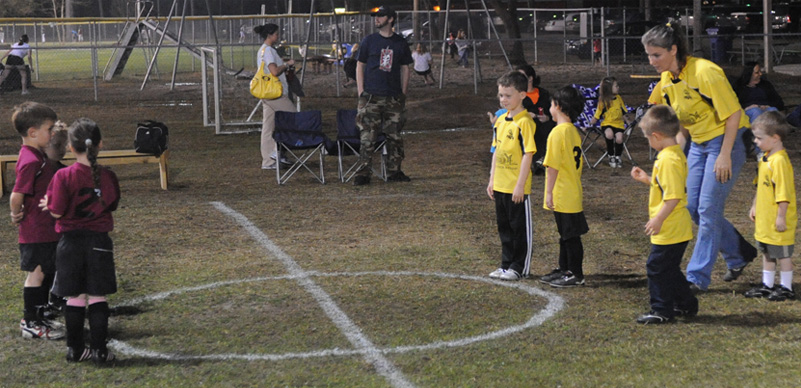 | | |
| --- | --- |
| Caleb kicks the ball in and then joins in the action. | |
| | |
| --- | --- |
| | At left, Darla positions Elyse to receive a corner kick. Above, Caleb does a throw-in. |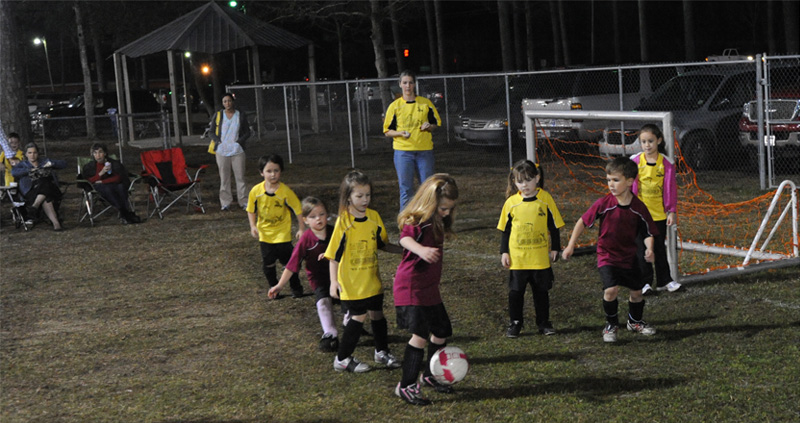 Action in the game above with Elyse on defense at the goal while an opposing player dribbles in. At extreme left are Diane with Caleb and Brenda, watching the game. The game was at the soccer complex at Cavenham Park

One of the neat things about watching this game is that the kids just seem to be having fun. No indication that any of them are really uptight about the outcome.
| | |
| --- | --- |
| | Elyse backs up her teammate, who tries to move the ball away from the goal. |
| | |
| --- | --- |
| Their keeper, in pink sweater, comes out to help clear the ball. | |
| | |
| --- | --- |
| | A strong threat on goal as one of the opposing players dribbles in close. |
| | |
| --- | --- |
| The threat is averted as the ball is cleared out to the side. Darla (Mom and Coach) watches as Elyse throws the ball in. | |
| | |
| --- | --- |
| | Elyse and her teammates defend against a corner kick. |
| | |
| --- | --- |
| They get the ball moving away from their goal. | |
Index
2010