Georgia Tech BSU - Food and Fellowship
Apr 10-12, 2010
| | |
| --- | --- |
| | In the inspiring setting of Lake Chatuge and the mountains around Hiawassee, we had gathered for a Georgia Tech BSU reunion. We were enjoying the Hiawassee springtime, but the main attraction was the fellowship with one another. |
| | |
| --- | --- |
| During the day on Saturday, others arrived, so we enjoyed greeting each new arrival. Standing around at the entrance to the lodge are Ron Jones, John Baxley, John Lowe, Linda Jones, Bill Nowell and Nancy Baxley. Suzanne Lowe is hidden behind John. | |
| | |
| --- | --- |
| | Gene and Jo Allison arrived from Nashville and are shown here with Frank Gudger. We enjoyed talking with the Allisons about their motorhome trip up the Alcan Highway to Alaska and back - and of course shared memories of our Alaska church construction trip. |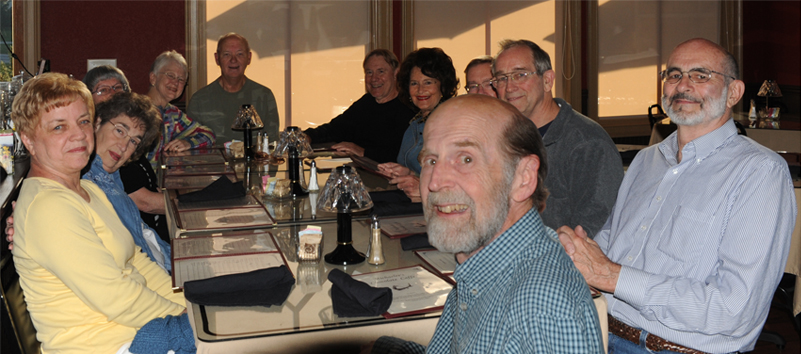 Our tradition of getting together to go eat is one of those that dates back more than fifty years. We gathered those who had arrived and were so inclined and went a couple of miles south in Hiawassee to a nice small restaurant. Around the table are Linda Jones, Brenda Nave, Suzanne Lowe, Nancy and John Baxley, Frank and Babs Gudger, John Lowe, Rod Nave and Ron Jones.

At right, Linda and Brenda divide one of the generous servings.
| | |
| --- | --- |
| | After dinner we returned to the third floor gathering room at the lodge that Frank and Babs had arranged for us. Suzanne Lowe, Linda Jones, Brenda Nave and Nancy Baxley continue their conversations there. |
| | |
| --- | --- |
| Though it will be hard to imagine for those who know him, John Baxley is wound out in an animated tale as John Lowe and Ron Jones listen. John and Ron did get in their comments however. | |
Leland Strange arrived and joined the conversation circle with Ron Jones, John Baxley, Frank Gudger and John Lowe. The men had their circle on one side of the room and the ladies over by the fireplace.

All these guys were in the era that got bachelors degrees from Georgia Tech in the late 50's and early 60's.
Index
2010