Vacation Bible School at Mableton First Baptist
June 6-10, 2010
First Baptist Mableton staged "Saddle Ridge Ranch" this year for Vacation Bible School. These are the groups that participated.
Entering Pre K Class #1 Caiden Alvarez, Henry Gunnin, Konner Huckeba, Hannah Cole, Alexandria Helton.
Leaders: Stephanie Tucker assisted by Emily Musgrove and Molly McNatt


Entering Pre K, Class #2
Carolyn Poole, Kendall Hass, Claire Goodrich, Angela Harrell, Tyler Brannon, Cole and Regina Rowland
Leaders: Regina Rowland and Phyllis McWilliams


Kendall Hass, Tyler Brannon, Claire Goodrich, Angela Harrell.


Completed Pre K, Class #1
First Row: Malayna Tamborra, Makenzie Gilman, Lily Helton
Second Row: Jennifer Good, Andrew Short, Amelia Quarles, Aubrey Byrd, Yeshua Carbajal, Clay Daniell, Nan LaFlash.
Leaders: Nan LaFlash, Jennifer Good, assisted by Barbara Warren, Christian Luna, and Leslie Vela.


Completed Pre K, Class #2
First row: Chase Tucker, Isaiah O'Neal, Melissa Herold, Cal Bennett, Elizabeth McAbee
Second Row: Benaiah Harrell, Paul Lara
Leaders: Karla Ayers, Kaitlyn Ayers, Destiny Shaw, Laura Flores


Completed K, Class #1.
Left to right: Benjamin Ludwick, Reagan Barr, Taylor Elliot, Abigail Byrd, Mattie Elrod, Andrew Ayoub, Javier Mina, Lacy Lee Hall, Kaylee Smith.
Behind: Elaine Ridgway
Leaders: Chris Ayers, Drew Brandon


Completed K, Class #2
Standing: Rhea Gravett, Mayah Villacis, Jacky Noriega, Jolina Dorgan, Daniele Smith, Megan Griffin, Caroline Jonson, Dylan Llewallyn, Matthew Dickey, Morgan Johnson
Seated: Alex Mendez, Lamar Smith, Riley Brooks
Leaders: Ruth Floyd, Ray Skibba, Skyler Williamson, Lupe


Completed 1st Grade
Children left to right: *, Zoe Hobgood, Drew Ridgway, Karina Lara, Juan Castro, Sam Story, Peyton Barr, Myles Herold, Zion O'Neal
Adults: Brenda Ceccarossi, Heather Daniell, Kim Smith, April Ludwick, Sarah Jane Barrett, Rhonda Short

Leaders: Sarah Jane Barrett and Brenda Ceccarossi, assisted by Nicole Ashley.


Completed 2nd Grade
Left to Right: Brian Tucker, Joshua Kelley, Michael Goodrich, Courtney McDonald, Emily Chen, Jessica Ayoub(front), Landyn Lee, Logan Todd, Hunter Rowland.
Leaders: Jo Templeton, Jennifer Neilson, Ashantea Cue.


Completed 3rd Grade
L-R: Taylor McWilliams , Katherine Vela, Sofia Lara, Olivia Ludwick, Skylar Gravett, Connor Smith, Sam Dickey, Grayson Bartlett, Noah Lara.
Leaders: Lori Hobgood, Taylor McWilliams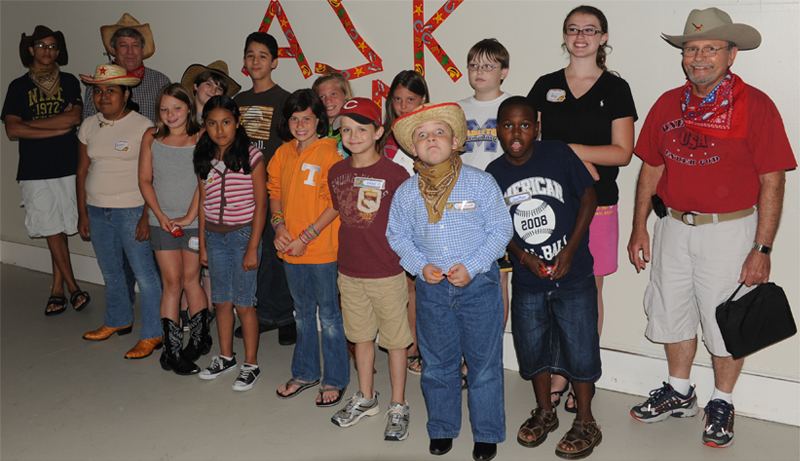 4th and 5th Grade
Front row: Isamar Avalos, Lexi Hobgood, Karen Avalos, Bailey Hall, Gage Marsh, Taylor Ammons, Jonathan Smith
Back row: Stephen Vineyard, Johnny Huffman, Michael Gilman, Christian Luna, Cianna Rampley, Destany Wall, Jake Storey, Amy Tucker, Joe Burkhardt.
Leaders: Johnny Huffman, Joe Burkhardt, Patty Burkhardt, Stephen Vineyard
Index
2010