Visit with Philippe and Mary Sue
May 2, 2012
The first leg of our trip to Arkansas was a drive up to Cleveland, Tennessee to visit with Philippe and Mary Sue. I don't think we have been to their house since 2001. We met them at Cracker Barrel for dinner. After a brief stop by their house, they took us to their church, Bellefounte Baptist Church where they had joined shortly after moving to Cleveland. We were keen on seeing their Awana program since we also work with Awanas.

The church is east of Cleveland out in the beautiful green pastureland.
I wanted to go with Philippe to see his work with the Cubbies, and Brenda went to prayer meeting with Mary Sue and subsequently got a tour of the church.

It didn't take long to catch the flavor of Philippe's relationship with the Cubbies. Two of them just about tackled him with hugs when he walked into the sanctuary where they were going to practice their song for Sunday. They sat down with the parents of two more Cubbies, but this active pair kept crawling up in Philippe's lap.
The Cubbies were put in the center for the practice session for Sunday's Awana recognition program. The Truth and Training group was on the right and the Sparks group was on the left.

In Philippe's subsequent comments, he told me that he had worked with almost all of these children as they came through the Cubbie age and had maintained a relationship with them as they grew. He had taught a number of them in Sunday School.
After the practice, I was able to get this shot of the whole Cubbie group out in the hall.

The boy with Philippe was one of the ones who tackled him when he saw him in the sanctuary. You can see how it would be a blessing to work with these children.
| | |
| --- | --- |
| | They took the Cubbies back into the sanctuary during prayer meeting to recite their verses and sing a little song. |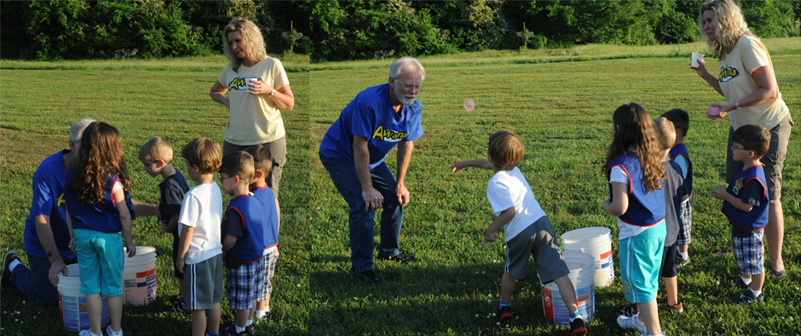 For game time on this last night of Awanas for the year, Philippe had filled 100 balloons with water and brought them in a couple of buckets. The Cubbies had a chance to pelt Philippe with the water balloons. They were timid at first, but soon warmed up to it.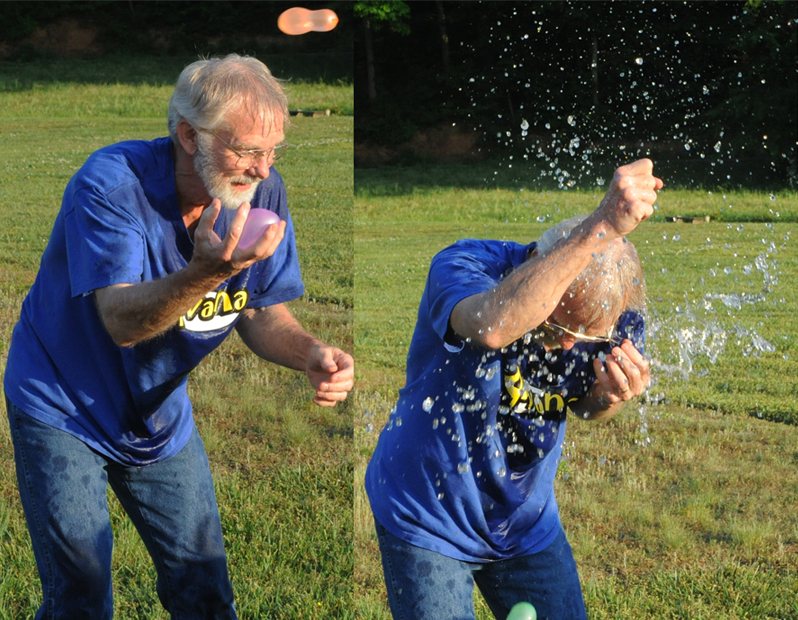 This one got past his defenses and made a big splash! To the delight of the kids, no doubt!
The children went to the playground while Philippe changed into dry clothes. He then brought out the remainder of his balloons and let them blow them up and pop them.

Overall, it looked like a very exciting night for the Cubbies.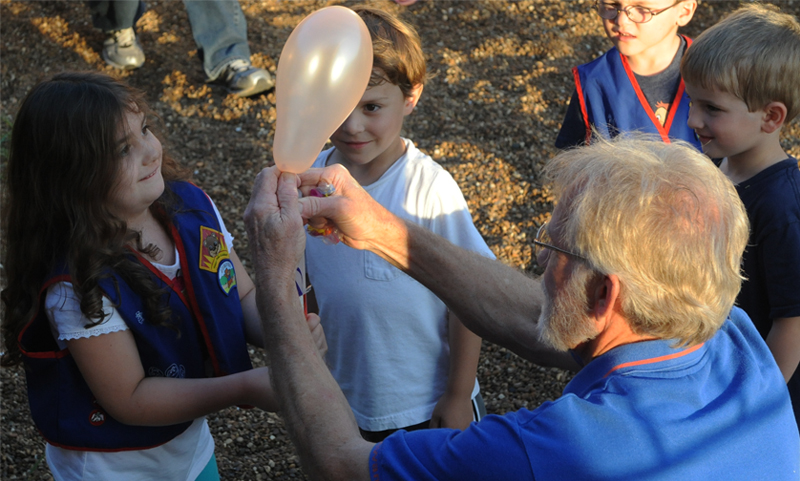 To Chattanooga and Nashville
May 3, 2012
We enjoyed the visit with Philippe and Mary Sue. We got up early, and after a couple of record photos, headed out to breakfast at a restaurant they know in Cleveland.
Then we had a nice walk in a park in Cleveland that they visit often. Bidding goodbye to them, we headed for Chattanooga.
| | |
| --- | --- |
| We drove to Chattanooga to an old stadium where Mark was involved in construction for the Jackie Robinson Story. This is the outside appearance of the Engel Stadium as we approached it. | |
| | |
| --- | --- |
| | Inside the stadium, a major transformation was taking place. Besides the general makeover, new sod and new seats, they were placing a large green screen around the outfield of the stadium. I heard that this was the second-largest green screen that had been employed in a movie. |
| | |
| --- | --- |
| We got to observe the construction process. The structures were being put in place for the last part of the green screen. Mark's part had been to put steel work in place, including a frame for a dugout and tunnel. | |
| | |
| --- | --- |
| | We got a tour of the construction of the dugout and tunnel from one of Mark's co-workers. We had hoped to take him to lunch as we passed through Chattanooga, but he had a crew of workers across town on a tight deadline, so he couldn't get loose. He arranged for two guys to meet us and show us around. These ladies who were painting in the dugout had seen him at supper the night before, so everyone knew him. |
Mark had sent me the pictures above from his initial construction for the tunnels. He had gone up there to run a large welding crew to do the steel frames and supports for these tunnels to the dugouts.

At left is a picture from a later stage of construction when they had put in the brick veneer in the tunnels. Randy took me through the tunnels, which were impressive. But the thing that stuck with me most was his comment that they then had to tear it all out and restore it to its initial condition!
Mark sent this updated picture of Engel Field before he left Chattanooga to work on sites in Atlanta near Ft. Macpherson.

Most of the seats are in place and the huge green screen is built up to its full height.
From Nashville to Newport
May 4, 2012
| | |
| --- | --- |
| | From Chattanooga we had driven to Nashville for the evening, settling into a comfortable unit at Wyndham Nashville. I'm always in favor of breakfast at the Opryland Hotel, so we went there fairly early. I enjoy the Cascades area with its fountains and water streams. |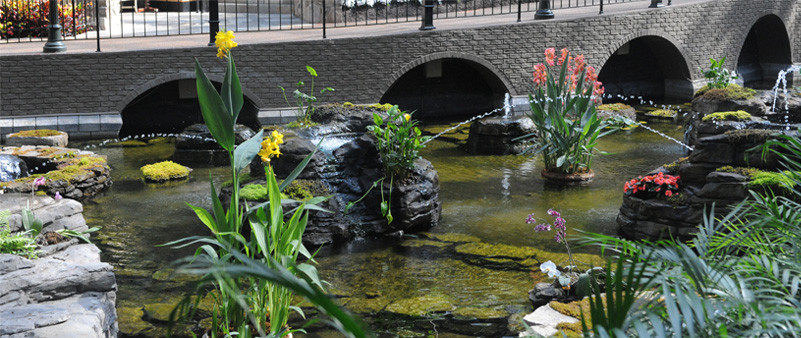 We enjoyed a walk around the gardens after breakfast, and I superimposed some of the orchids we saw onto an area of the fountains.
After a visit to the larger cascade, we headed toward Memphis and then to Newport.
Index
2012