Awana Breakfast and Grand Prix Practice
January 21, 2012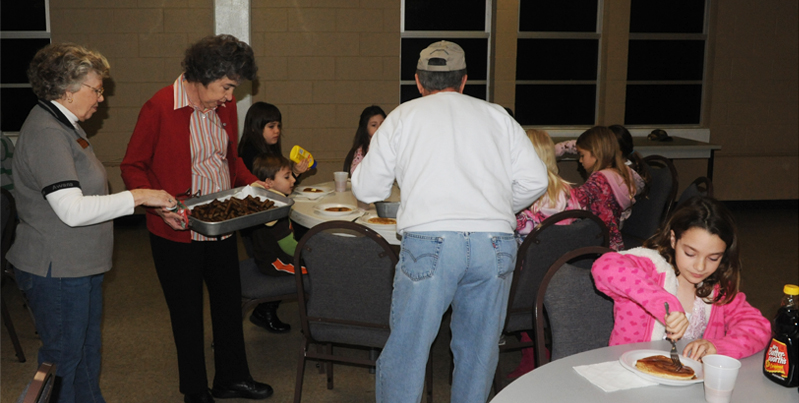 Ruth Floyd, Brenda Nave, and Joe Burkhardt serve at the Awana pancake breakfast. Thanks to Johnny Huffman and Stan who worked hard in the kitchen to cook pancakes and sausage for over fifty people who showed up for this practice and workshop session for the Awana Grand Prix which is to be held on February 5.
Scott Kelley with Joshua and Dylan Bates showed up early and pitched in to assemble the racer track. Joshua serves as a prop while Dylan helps join track sections. John Ford helps as the track takes shape.
| | |
| --- | --- |
| | Anna Grace Ebert and Dylan Bates are quick to try out the assembled track. |
| | |
| --- | --- |
| I had set up a workshop with a bandsaw for cutting shapes, a scale for weighing, and drills and vise for putting weight in the cars. Scott and Joshua Kelley work on their car whiled John Ford watches. | |
| | |
| --- | --- |
| | By nine o'clock an enthusiastic group had gathered around the two assembled tracks and the workshop area. Lana calls us to order and has prayer to bless the food, and we adjourn from this area for our pancake breakfast. |
| | |
| --- | --- |
| Hadden Byrd with a table full of girls for pancakes. Morgan Johnson, Aubrey Byrd, Abigail Byrd, Anna Grace Ebert, Kaylee Smith and Olivia Ludwick. | |
| | |
| --- | --- |
| | At one of the boys' tables were Riley Brooks, Ben Ludwick, Logan Todd, Connor Smith, Christian Griffin and Dylan Bates. |
| | |
| --- | --- |
| Bill Jones brought along his racer shop, so we had two bandsaws. He turned out to be the racer guru, having done it for many years with Scouts. | |
| | |
| --- | --- |
| | He even had templates for a number of car profile designs! |
| | |
| --- | --- |
| With two tracks and two workshops set up, we were now in full swing with the process of cutting out, weighting, and testing the Grand Prix racers. | |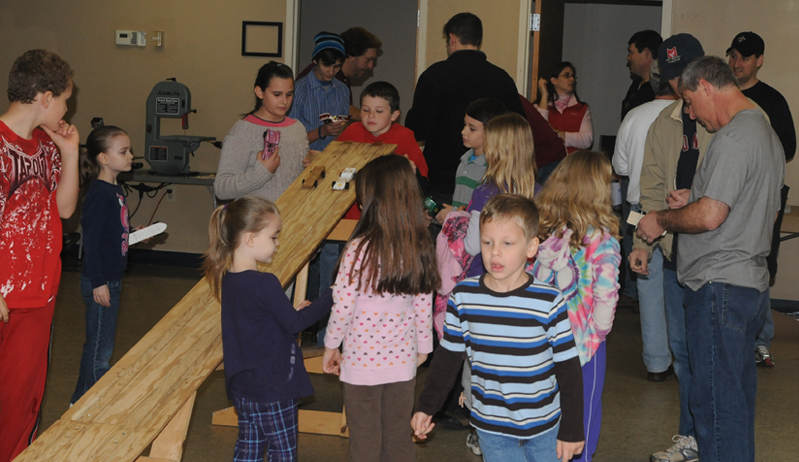 A crowd gathers around the track to test their cars.

At left Josh and Bill Jones demonstrate car designs and help draw designs for cutting.
| | |
| --- | --- |
| Will Jones and watch the start of a trial race. | |
| | |
| --- | --- |
| | Mackenzie Gilman shows up to tune up her car, accompanied by Dad Larry and big brother Michael. |
| | |
| --- | --- |
| | Josh does an expo with the cars the Jones family has made over the years. Dylan Bates and Logan Todd look on above. |
High level car consultations with Bill Jones and John Ford, both of whom have a lot of experience with the Scout races.
| | |
| --- | --- |
| | Ruth starts a trial race with Will Jones, Linzie and Larry LaRue looking on. |
This is a family project for the Griffin family as Christian works on his car. Bill Jones helps to shape the outline on his bandsaw.
Above, Larry and Linzie LaRue watch as Dad starts a race between one of them and Christian Griffin.

Dylan Bates and Hadden Byrd catch the cars at the end of the track.
Above, Hadden Byrd, Logan Todd, Clay Daniel and Dylan Bates enjoy running a variety of cars down the hotwheels track.

We had set up the hotwheels track for the entertainment of the smaller children, but the older Awanas enjoyed them too.

At right, Megan Griffin and Jolina Dorgan join in the hotwheels fun.

It seemed like everyone had a good time and we made a good bit of progress getting the cars ready. We were talking afterward about the fact that the kids may have more fun on the practice race day than at the real event since it is relaxed and more unstructured.
Index
2012