Preschool Choir
January 27, 2013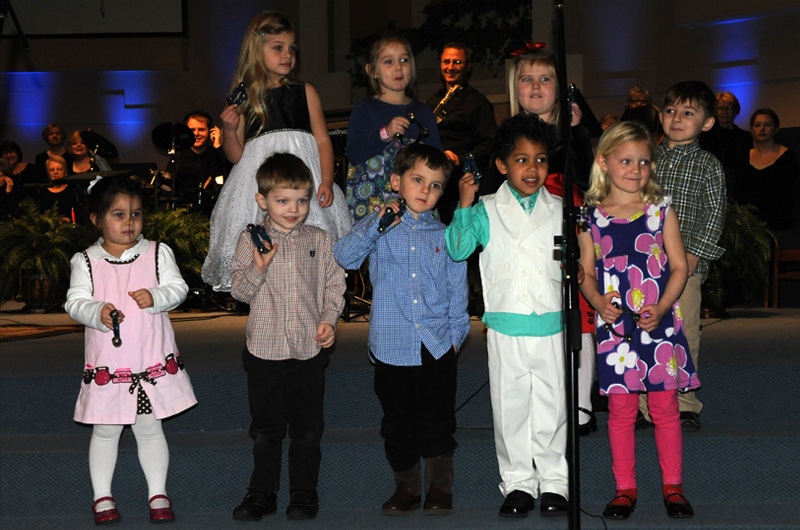 | | | |
| --- | --- | --- |
| | | The preschool choir is always a delight. There were smiles all around. |
They really got into their final number!





Thanks to John Ford for taking these pictures.
Awana Grand Prix Race
January 27, 2013
After the morning service, we gathered in the Fellowship Hall for a pizza lunch and then the big race.
| | | |
| --- | --- | --- |
| | | The race for Sparks (Kindergarten to 2nd Grade) was run on our old track with Gary Oxendine as starter and Rod Nave keeping the race grid. Makenzie Gilman and Madeline Ebert compete in one of the early races. |
| | | |
| --- | --- | --- |
| The T&T race (grades 3-5) was run on a five-lane electronically timed track provided by Bill and Tracy Jones and friend Clint. The races were run simultaneously, and to our surprise, took about the same length of time. | | |
Having the big high-tech track was a new experience for us. Tracy Jones prepares to start a five-car race at right, and the times were tabulated for all five cars. Each car ran on each track, so that was five races per car with 23 cars competing. That gave them a ranking of all 23 cars. The 20 cars we ran on the old track were just done by double elimination, so we only determined the two fastest and then could determine the third place car. Surprisingly, the two races took almost the same amount of time.
| | | |
| --- | --- | --- |
| | | Hanna Thomas and Cindy Tchoumtchoua watch with anticipation for the start of their race. |
| | | |
| --- | --- | --- |
| The above view gives a broader view of the start zone for the two races. Makenzie and Jayven Cammon watch the start of their race. At right Jasmine Giacomen and Andrew Short start their race. | | |

The Sparks race progresses as Laura Mode and Makenzie Gilman compete in a later race. They had both won their previous two races. It was a good gathering of children and parents.
Sparks Style Winners

1st Place
Laura Mode

2nd Place
Clay Daniell

3rd Place
Andrew Short
Sparks Race Winners

1st Place
Andrew Short

2nd Place
Livi Altshul

3rd Place
Clay Daniell

Right to left
T&T Style Winners

1st Place
Will Jones

2nd Place
Graham Johnson

3rd Place
Coleen Williams
T&T Race Winners

1st Place
Zoe Hobgood

2nd Place
Coleen Williams

3rd Place
Will Jones
Overall Winner,
2013 Awana GrandPrix

Zoe Hobgood

Zoe was the winner of the race-off between the T&T and Sparks winners.
Some of the most delightful moments were the joyous play of the children with the cars after the race.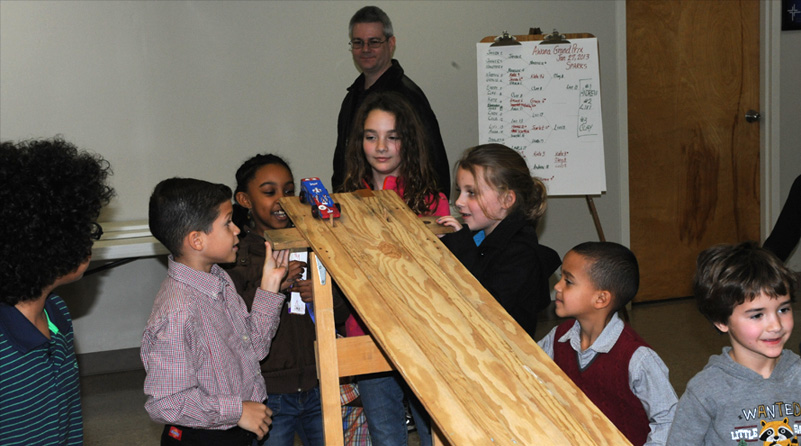 | | | |
| --- | --- | --- |
| With the pressure of the race behind, the children could just enjoy racing their cars down the track. | | |
| | | |
| --- | --- | --- |
| | | Their degree of cooperation and fun in the informal races was impressive. |
| | | |
| --- | --- | --- |
| So we end this event in the church Fellowship Hall with joyful play and fellowship among the children. We praise the Lord for the sense of play and community. | | |
Index
2013