Continuing at Disney Magic Kingdom
May 26, 2013
| | |
| --- | --- |
| We joined a line with hundreds of people in it for the "It's a Small World" boat ride. This is a ride where they can move through a vast number of people because it is so efficient and moves continuously. It is also typical Disney in that it has so many crafts and models in it. | |
| | |
| --- | --- |
| | The line move along quickly and it was interesting to watch all the families and groups. In times of waiting, Jeff and I read books on our iPhones. We saw waits as long as 105 minutes on this crowded day, but this one was relatively short. |
I was surprised at the length of the boat ride, and the whole path was was lined with animated figures with the continuous song "It's a Small World, After All" synced to the figures and the instruments that they were playing at that location. Some of them were made to be super cute, and others comical caricatures.
| | |
| --- | --- |
| | Elyse really seemed to enjoy this ride, so that meant Grandma Brenda enjoyed it too. |
We reached the end of this creative and well-synchroized ride with good-byes in many languages.

Then the girls wanted to ride the swirling teacups ride again, so Rod rode with them.
To make the long-term effort to make a shrub in the form of Alice and the Hare is really dedication to your scenery! Past this extraordinary shrubbery we headed back into the street into this incredible crowd. It was approaching 5pm on Sunday of Memorial weekend and the crowd had been building all day.
| | |
| --- | --- |
| | We were keen on doing the very popular mine train ride that we had seen from the Riverboat. We had invested one of our fast passes in that ride and it was now our turn, so Jordan waits in the short fast pass line. |
They had a lot of genuine-looking old machinery along our pathway to the train.
Above, we are roaring down a steep slope and into a sharp turn.

At left, Jordan, Ashleigh, Jeff and Darla on mine train headed up the slope.
| | |
| --- | --- |
| Rod and Elyse were in the car behind Jordan and Ashleigh. | |
| | |
| --- | --- |
| | Hands up as train roars downhill and into a curve, except for Ashleigh who was videoing the process. |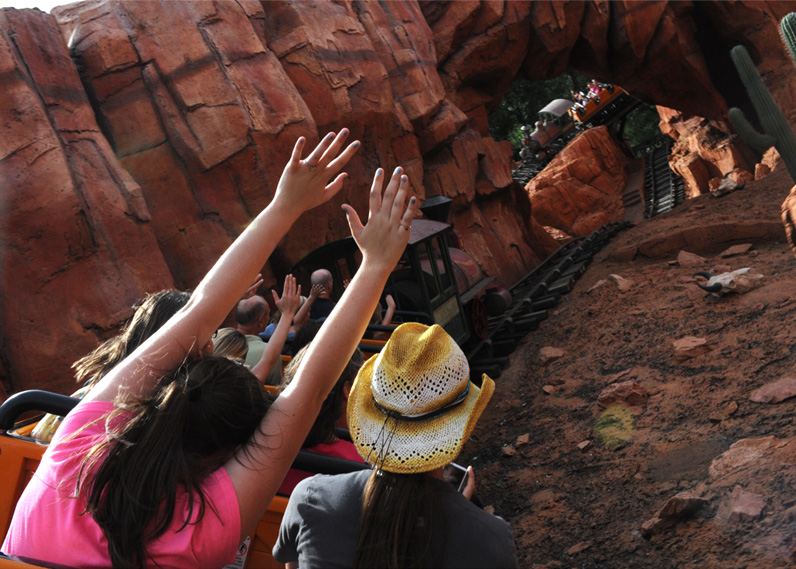 | | |
| --- | --- |
| On one of our roaring trips around a downhill curve, we caught sight of the riverboat on the river nearby. | |
| | |
| --- | --- |
| | Darla, Rod and Elyse had taken the tour on this surprisingly large riverboat on the circle of river they had created. |
Elyse wanted the autographs from the stars of Toy Story, so that led to the picture of all three girls with Woody and Jessie.

They had their pictures taken with them on the 2006 trip also.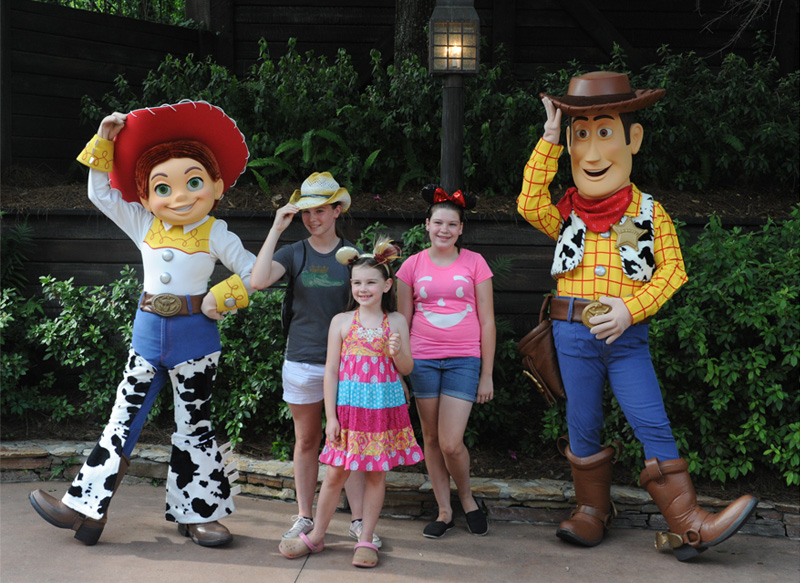 Darla and the girls had to wait in a line of probably twenty family groups to get the opportunity for this pictures, but it was a much more impressive process than I expected. To see that many small children run up to these characters and hug them with complete confidence and hug them again when they left shows that they did a remarkable thing with these Toy Story movies - a very positive thing.
| | |
| --- | --- |
| | We had sort of planned to stay for the light parade and fireworks, but we were all worn out, so we decided to hop the loop train and head for the entrance. We were to see the light parade on Thursday. |
| | |
| --- | --- |
| I think we were all relieved to sit a while on the train looping to the other side of the park. | |
| | |
| --- | --- |
| | One more photo at the top of Main Street and we call it a day in the Magic Kingdom. |
| | |
| --- | --- |
| We hopped on the large ferry and passed our twin on the way back to the transportation center. Soon we were back in our comfortable quarters at Bonnet Creek after a very satisfying day at Disney. | |
Index
2013