VBS at MFBC, "Agency D3"
June 1-5, 2014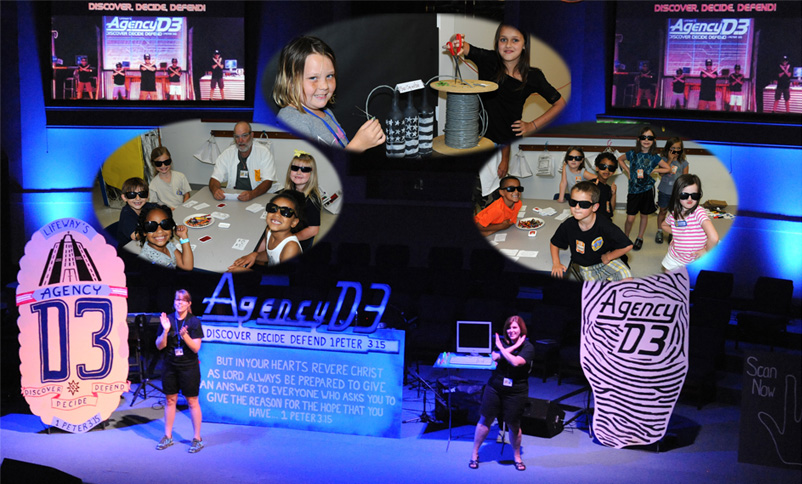 This year's theme for Vacation Bible School was "Agency D3", Discover, Decide, Defend. With a secret agent flavor, the kids had dark glasses and pursued all kinds of investigation paths. Belinda Baker and Heather Daniell led the theme music in the opening and closing ceremonies, with Lana Ebert and Mike Anderson leading the opening and closing sessions.
The lively kickoff each night featured beachballs, streamers etc. from the balcony.
The wild time of balls, airplanes, parachutes, etc. coming from the balcony got everything off to an active start.
The intro session had lots of music, and lots of gags about technology and undercover investigations. Shown are Lana Ebert, Heather Daniell and Belinda Baker with their rocket backpacks. At lower left Michael Johnson puts on his best "Men in Black" guise and Janet Vineyard with the mustache.
With the leadership of Belinda and Heather in front, we learned several songs with the gospel message associated with the "Discover, Decide, Defend!" theme. Belinda and Heather also helped teach these message songs in their music sessions with the older children's group.
After the opening session, all the groups with their leaders march out to the individual sessions of Bible study, missions, crafts, music and recreation. There were separate tracks for preschool and grades 1-5. We will follow the preschool track first.
Elaine Ridgway leads the children in an investigation about Jesus. She was the leader for the preschool Bible study, which was called the "Evidence Vault".
I believe she has their attention!
Janet Vineyard led the Mission Study for the preschoolers with her session called "Map Room". For the very young ones, she had them spelling mission words with large block letters.
Billy Ridgway and April Cantrell were the leaders for the preschool crafts, shown top center. At top left, Rachel Wade assists the preschoolers. At mid right, Christine Burton, Lori Pulliam and Edna Goldsborough accompany their preschool groups.
Besides their crafts, these groups put on their dark glasses to get into the "secret agent" mode.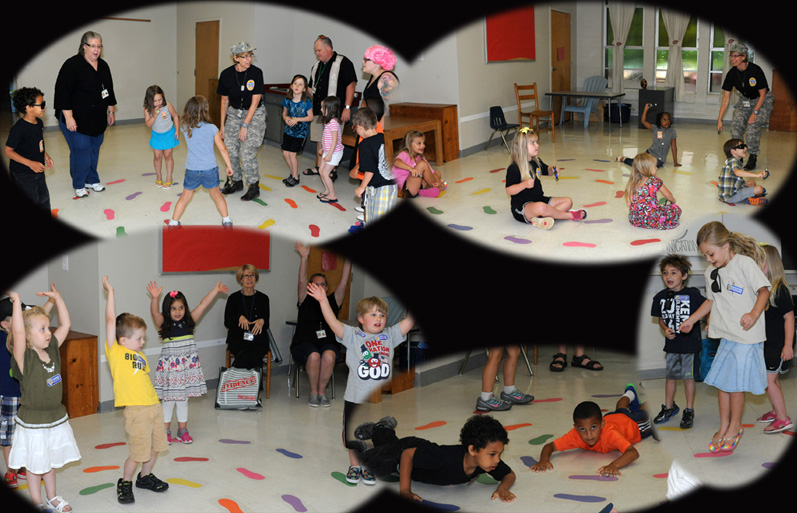 Danielle Bialka and Kim Krebs led the preschool children in their theme music exercises. Danielle had made up the colored footprints to organize and guide the children in the exercises. At top left Karla and Chris Ayers join their group in the music. At bottom left, Penny Skibba and Lisa Carey with their group.