Winter Activities 2015
Woodpecker Storing Seeds for the Cold Weather
We had been watching with curiosity as this redheaded woodpecker (or red-bellied sapsucker) made repeated trips to the ground and back to the side of this big poplar tree. We finally realized that he was picking up black sunflower seeds and poking them in the cracks and crevices of the tree bark. He was storing food for the cold weather!

| | |
| --- | --- |
| He searches among the hulls left by the finches. January 10. | This odd-looking shot is his launch off the tree back down to the ground for more seed. |
| | |
| --- | --- |
| A diligent search below the bird feeder for whole sunflower seeds. He often looks up to check for safety. | |
He comes up with a whole sunflower seed and is ready for another trip to the tree.

| | |
| --- | --- |
| We watched him repeat this pattern many times both on this tree and a couple of trees near the backyard feeder. He certainly worked hard at it. | |
| | |
| --- | --- |
| With the replacement of the laboratory computers with new laptops and data collection terminals, Rod is exploring the recasting of some of his sound experiments to work with these new setups. A microphone is connected to the data collection terminal, and when you blow across the coke bottle to produce its resonant frequency, the waveform is captured on the laptop. | |
Rod will go back into the classroom on January 13 to teach the Physics of Music and Speech for the 45th year, having been handed that course to develop in 1970. It was about 1982 before the first computers were used, and the early 90's before waveform data could be collected and displayed on the computers. So the laboratory for the physics of sound has changed dramatically during his time of teaching this course.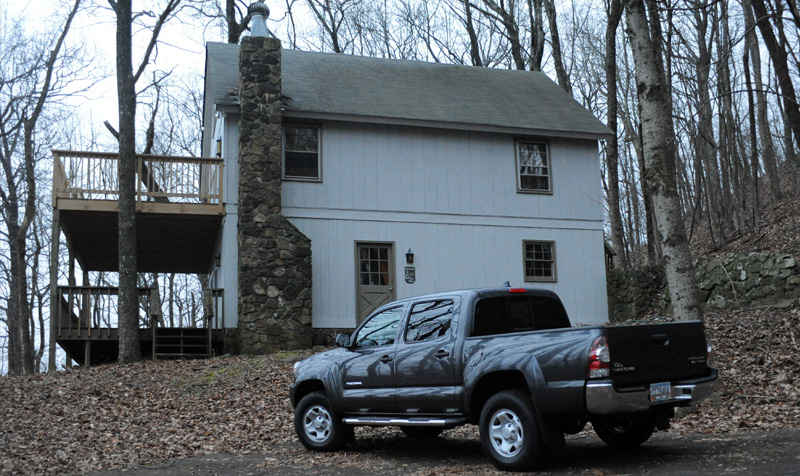 | | |
| --- | --- |
| We went to Bent Tree on January 11 for the night. It was our first trip up in Rod's new pickup, and we were pleased with its performance. We were also pleased that Brenda had no trouble with shortness of breath at that altitude, so she has recovered well from the events of December. It was a rainy, foggy evening with the bare trees outlined against the fog. We left fairly early the next morning with a cloud below us in the valley. | |
On the way down the mountain we were treated to the sight of this flock of wild turkeys grazing peacefully beside the road.


Index
2015