Special Service with Note-Burning at MFBC
January 18, 2015
This was a special day at Mableton First Baptist Church as we celebrated "One Day", encouraging each one to bring one, and part of our emphasis on what one person can do. It was also exciting as the day we had a note-burning ceremony to celebrate the retiring of the debt on the building and facilities.
Our celebration service was started out in a beautiful way with the baptism of two of our young people. Mike Anderson did the baptisms.
This certainly got us started in a mood to sing praises to God for His blessings.
The children's choirs joined in on the opening songs of the service, including the song "Every Praise".
| | |
| --- | --- |
| | This is the group of kids on the left of the choir. Thanks to Heather Daniell and Vicki Baker for working with the kids to learn the songs during Awana music time. |
| | |
| --- | --- |
| This is the other group of the young ones on the right side of the choir. | |
| | |
| --- | --- |
| | It was good to see the kids really engaged in the music. |
| | |
| --- | --- |
| It was a joy to have the young ones participating with us. | |
| | |
| --- | --- |
| Former Pastor Stephen Byrd came back to be with us on this special day and reviewed the process of getting to this point of paying off the church debt. | |
| | |
| --- | --- |
| | Jon Rowland, Chair of finance, holds the note while Mike Anderson and Stephen Byrd light it. |
| | |
| --- | --- |
| | Jon and Stephen enjoy lighting the note and watching it burn. The whole congregation had a lot of fun with this. |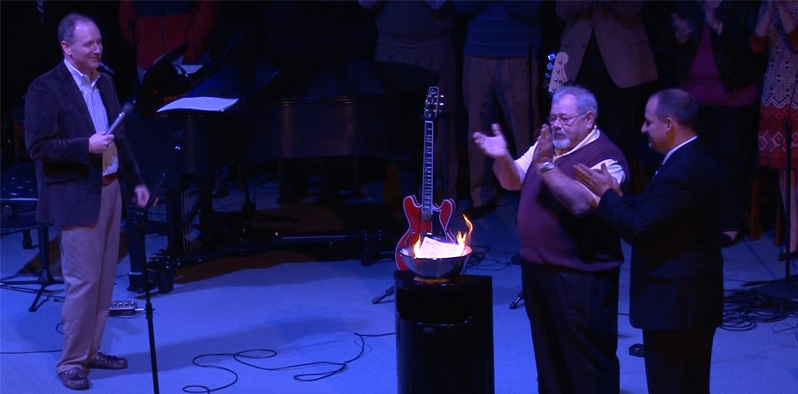 After the note burning, we had one more musical celebration with choir and congregation singing "Power in the Blood".
We had a powerful message from interim pastor Dr. Steve Echols on "The Sanctity of Life" on this, the Sanctity of Life Sunday. We had had the celebration of the debt retirement from former pastor Stephen Byrd and a video greeting from future pastor Dr. Clint Miller, who will join us in early February. So we were blessed with past, present and future on this one Sunday.
A fitting end to the service was the bringing up of Riley and Madison to present Bibles from the church and promise to them prayer and nurture. Along with the participation of the children in worship today, it served to remind us what we are here for.