Open Door Class Involvement in VBS
May 31-June 4, 2015
After a busy week of VBS 2015, we celebrated the involvement of our Sunday School class members in the process.
This composite shows fifteen of the total of twenty of our class members who were involved in VBS leadership this year. Across the top are Gail Wade, Betsy Weaver, Keith Weaver and Karla Ayers. The middle row includes Brenda Speight, John Ford, Robin Ford, Tony Mode and Bob Wade. Bottom row includes Chris Ayers, Amy Elliott, Kim Krebs, Cheryl Anthony, Roger Frater and Jesslyn Frater. Also involved were Vicki Baker with Grades 1-5 music, and Rod and Brenda Nave with photography. Kelly and Doug Brandon worked hard on the creative scenes and decoration.
Gail Wade leads the Craft session for Grades 1-5 along with Cheryl Anthony who is shown bottom right. Also shown is John Ford who was one of the group leaders for the Fourth Grade group which is involved in their craft project.
Becky Ridgway, Carol Durand and Betsy Weaver operate the checkin at the kiosk and help overall to keep things organized.
Keith Weaver was involved in multiple tasks in support of the entire VBS process, but this one was the most colorful. He is returning some of the beach balls used in the popular beachball bombardment which is a part of the opening ceremony.
Karla Ayers is leader for this preschool group along with Chris.
Brenda Speight is leader for one of the preschool groups.
John Ford is a leader for the Fourth Grade group along with Johnny Huffman.
Robin Ford is a leader with the Second Grade group.
Tony Mode and Bob Wade are leaders with the Fifth Grade group along with Jennifer Good.
Chris Ayers is leader for a preschool group along with Karla. They are in their craft event.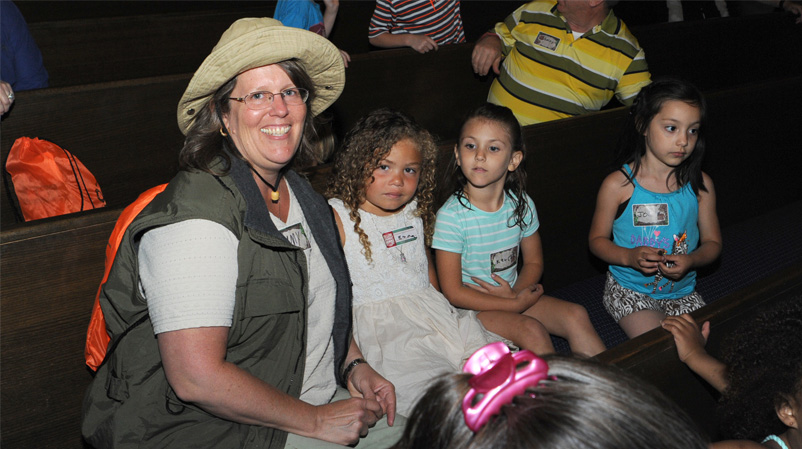 Amy Elliott is a leader of a preschool group along with Tammy Miller.
Kim Krebs along with Danielle Bialka lead the music event for preschoolers.
Cheryl Anthony is a leader for crafts for Grades 1-5.
Roger Frater and Jesslyn Frater are the leaders for the Bible Study session for Grades 1-5.