Travel to Seville
Tuesday, May 30, 2017
The routes of our travels in Andalucia.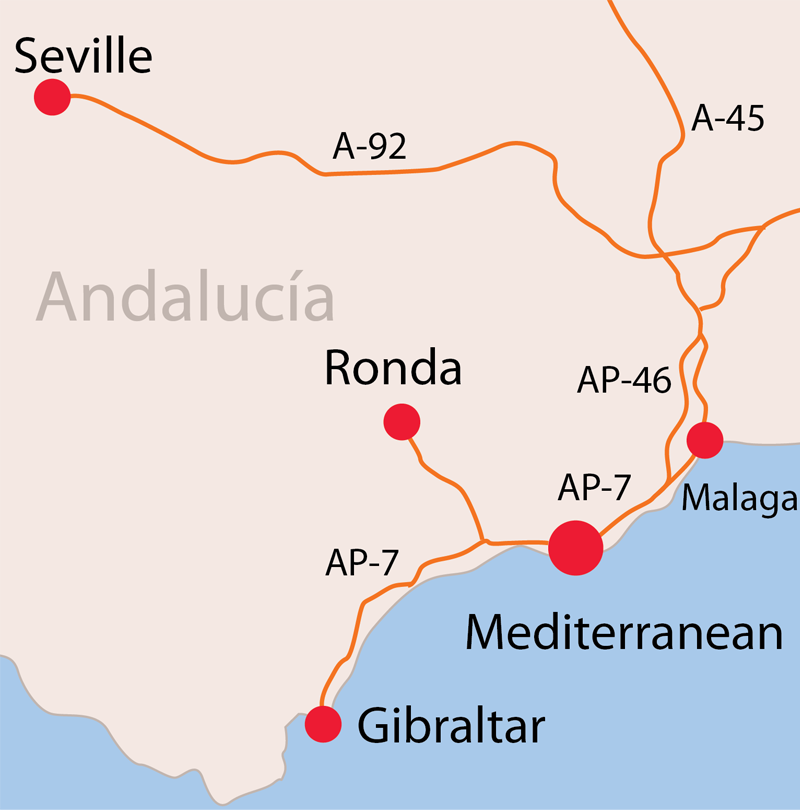 We were up at 5:30 and left for Sevilla at 7am, traveling up Esmeralda to join the AP-7. That was much easier than going down to the bottom of Avenida de Golf and trying to find a way across to go east on the A-7. That was a fortunate choice. We were finally getting the lay of the land and were able to navigate better.
We followed the AP-7, branched to A-7, then AP-46 and A-45 (the Madrid highway). We then turned left on A92 and were making such good time that we stopped for gas and breakfast along that route. You had to let them pump the gas for you, and the guy who pumped ours was from near London and had been here in Spain for 10 years. We shared a ham sandwich with thin bread and the super thin sliced ham. We presumed that it was like that which Dr Howard told us about. They had whole hams for 70 euros, so it was pretty expensive. We stopped again briefly along A-92 because we were running a bit early.
We were able to find Avenida Santa Clara de Cuba with the help of Brenda's GPS on her phone so it rescued us once again. Manuel cleared us in the gate and we parked in the numbered spot he gave us. We then pressed his address button at the door to open it and rode a tiny elevator to the 5th floor left suite where they live.