Jordan's Graduation from Pearl River High School
Wednesday, May 3
The location for Jordan's graduation was the arena at Southeastern Louisiana University at Hammond, about 50 miles from the school! This is the setting, with Jordan in place on the stage as one of the 10 outstanding graduates from the class of 160. Darla is in the faculty perimeter in her academic robe.
| | |
| --- | --- |
| Jordan is on the back row at the right end on the stage. With the top ten graduates are ?, Mrs Katie Fuller, Assistant Principal and Michael Winkler, Principal. | |
Jordan is in the center of the above photo as the ten outstanding graduates proceed to the center stage for special recognition.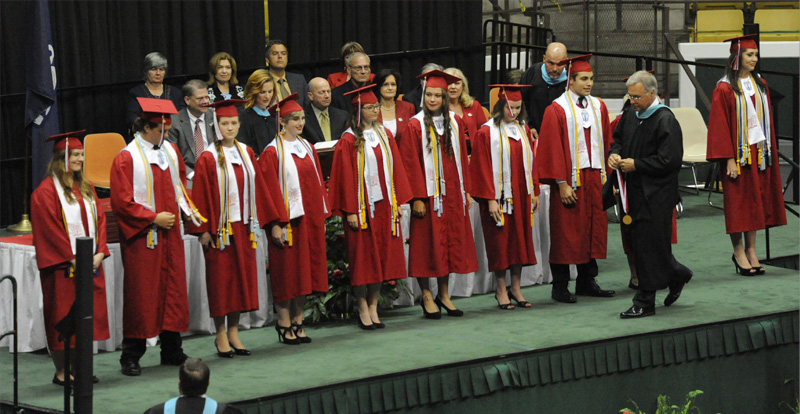 With the top ten graduates at center stage, Principal Michael Winkler starts the process of presenting a medal to each graduate along with a description of their accomplishments.
| | |
| --- | --- |
| Finally it is Jordan's turn. | |
| | |
| --- | --- |
| After these awards, Jordan and the others rejoined their classmates for the awarding of the diplomas. Jordan wears the cords that represent the three distinctions she earned: Top Ranked Graduates, President's Education Award and GPA of 4.0+ | |
Then started the long-awaited process of walking across the stage to receive their diplomas.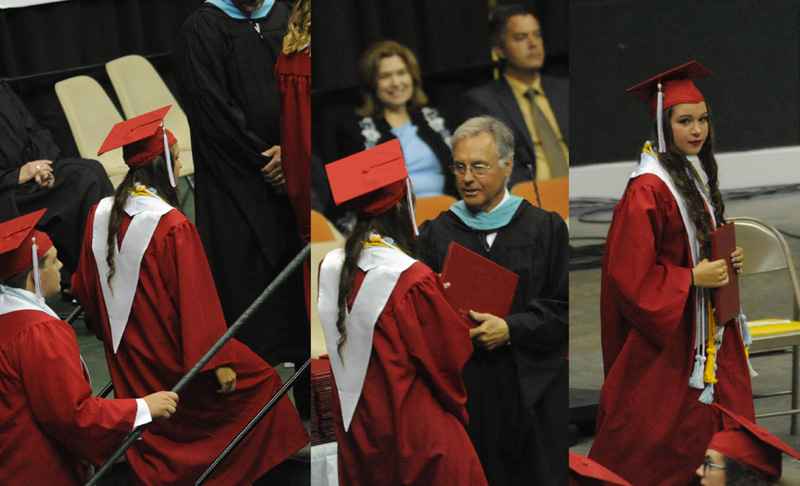 Jordan makes the "walk" across the stage to receive her diploma from Principal Winkler.
| | |
| --- | --- |
| | With diploma in hand and adorning cords for special academic honors, Jordan returns to her seat for the final stages of the awarding of the certification of graduation. |
| | |
| --- | --- |
| The degree is conferred, the tassels switched, and then red hats fill the air in the arena! | |
| | |
| --- | --- |
| | Jordan offers the benediction prayer. |
| | |
| --- | --- |
| A quartet of students lead in the singing of the alma mater before the final recessional begins: Claire Brenia, Kandice Wisher, Allison Mims and Alexandra Lawson. | |
| | |
| --- | --- |
| | A group of happy students leave the stage to join the recessional at the end of a major event in their lives. |
Index
2017