Our Mardi Gras Blessing: Jeff and Family Visit
February 24-28
We were pleased that the family could gather for the Mardi Gras break, but it took some arranging. Ashleigh had to come home from Tulane and then Darla and the girls drove up on Friday evening, arriving about midnight. Jeff was in Arkadelphia, Arkansas for his professional meeting. He had to catch a ride to Little Rock and then fly to Charlotte and connect to Atlanta, arriving about 11:30. Marty picked him up at the airport and they arrived at the house a bit before Darla and the girls arrived. We praised the Lord for the safe journeys and settled in for the night.
Saturday, February 25
| | |
| --- | --- |
| | It is good for them to be able to relax and do whatever strikes their fancy when they come here - they have very busy lives. The girls decided they wanted to make a movie in clothing from the 60's or some decade long before they were born. So they got some of Grandma Brenda's older outfits and tried them on. |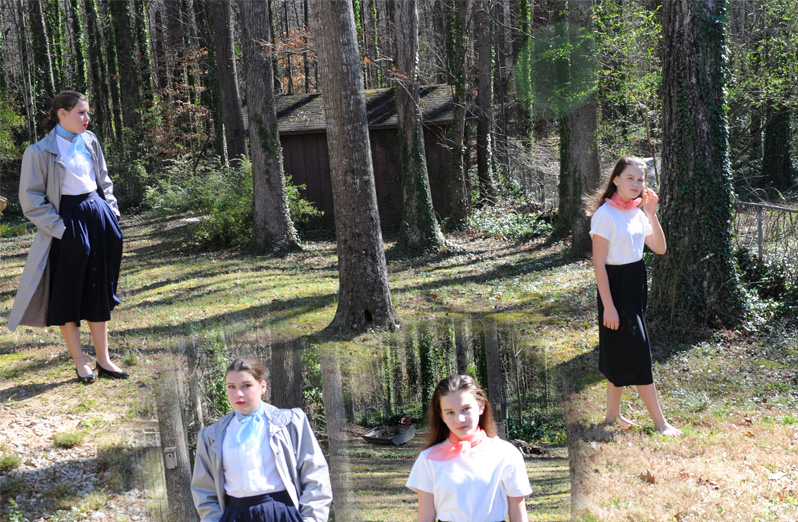 They chose their outfits, hair styles, etc and began the action of the movie in the back yard and into the basement door.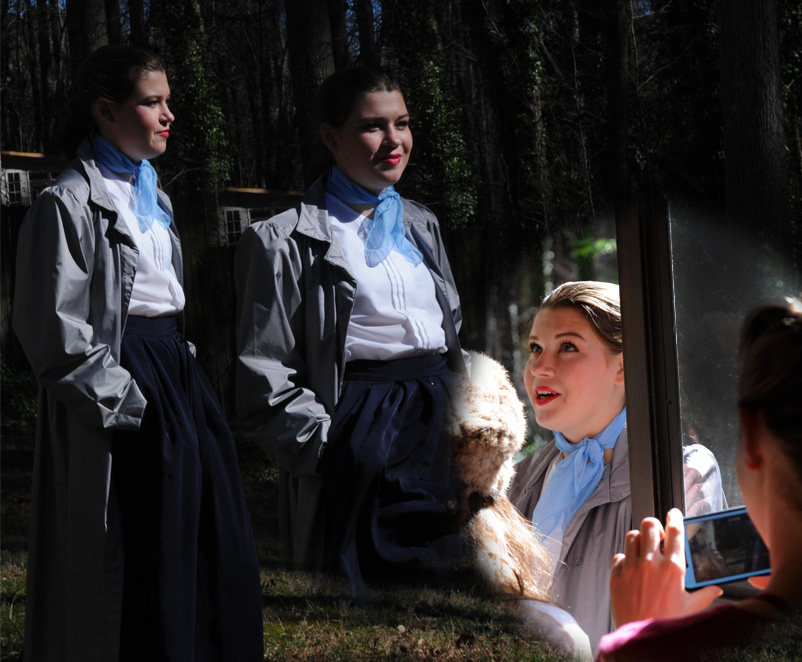 Jordan's role brings her to the door where she is greeted by Elyse. Ashleigh does the video and directs.
Sunday, February 26
We had a luncheon after church in celebration of Becky Ridgway's 20 years on the church staff. That gave us an opportunity for a family picture.
| | |
| --- | --- |
| | Uncle Mark came out so there was a lot of clowning around with the girls. |
| | |
| --- | --- |
| It was a good time to relax and celebrate some family time together. | |
To Sweetwater Park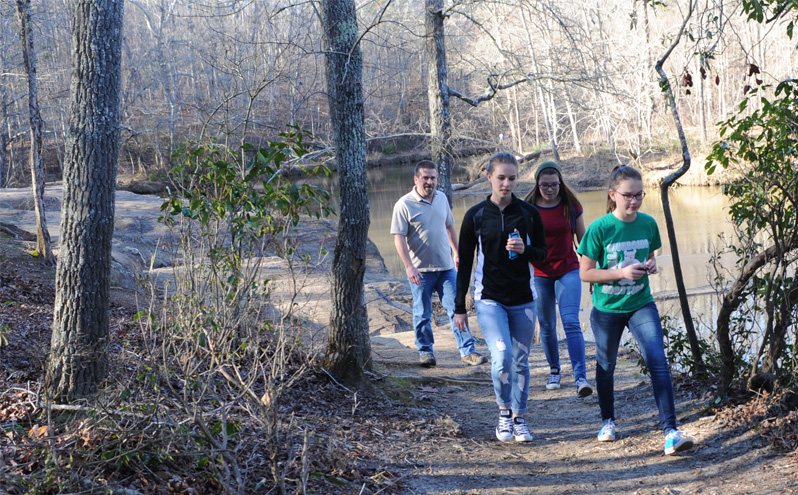 | | |
| --- | --- |
| It was a beautiful afternoon and the girls made a strong lobby for going to Sweetwater Park. | |
They headed for the first large, climbable rock along the trail. They remembered it well from previous trips.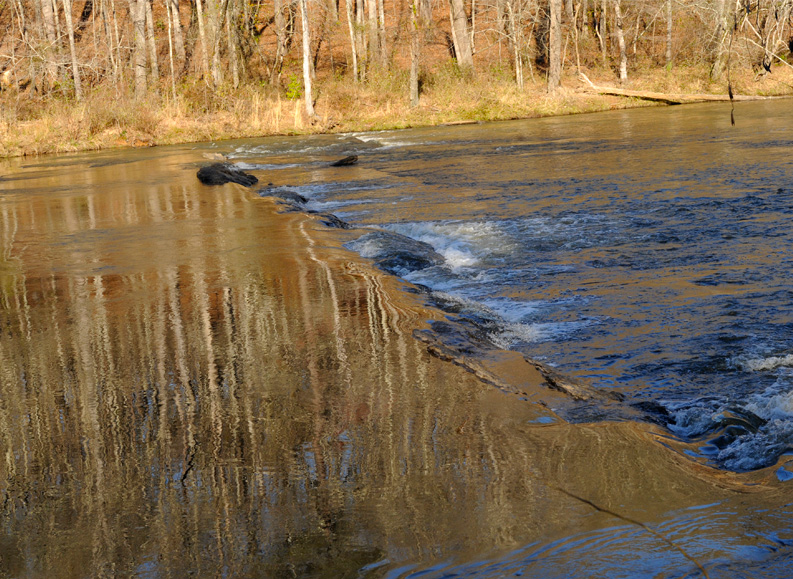 | | |
| --- | --- |
| The water level on the shoals was very high, so it was clear that they were not going to be able to rock hop like they did last time. But they found a way to get out on the rock. | |
| | |
| --- | --- |
| Elyse finds a good climbing tree at the water's edge. | |
Elyse and Mark explored the edge of the creek near the factory and had to find their way back across the millrace leading to the factory.
Of course we have to have a group picture at the Factory. Marty, Jeff, Elyse, Ashleigh, Jordan, Darla, Mark.
| | | |
| --- | --- | --- |
| We have a lot of history here, and this time I was impressed with the fact that the factory looks the same, but these three young ladies are very different. At right is one example of a previous trip back in 2008 on one of the hurricane evacuations. | Even earlier is one Sweetwater visit in 2003 before Elyse came along. | |
The guys walked along the creek side while the girls explored an upper trail. We are back together and headed back toward the factory. Note that Jeff is barefoot, even though he has a big toe bandaged after stumping it at Marty's last night.
We passed the factory on the way back and stopped to pick up Brenda who had been reading on a bench by the creekside while we did the factory loop.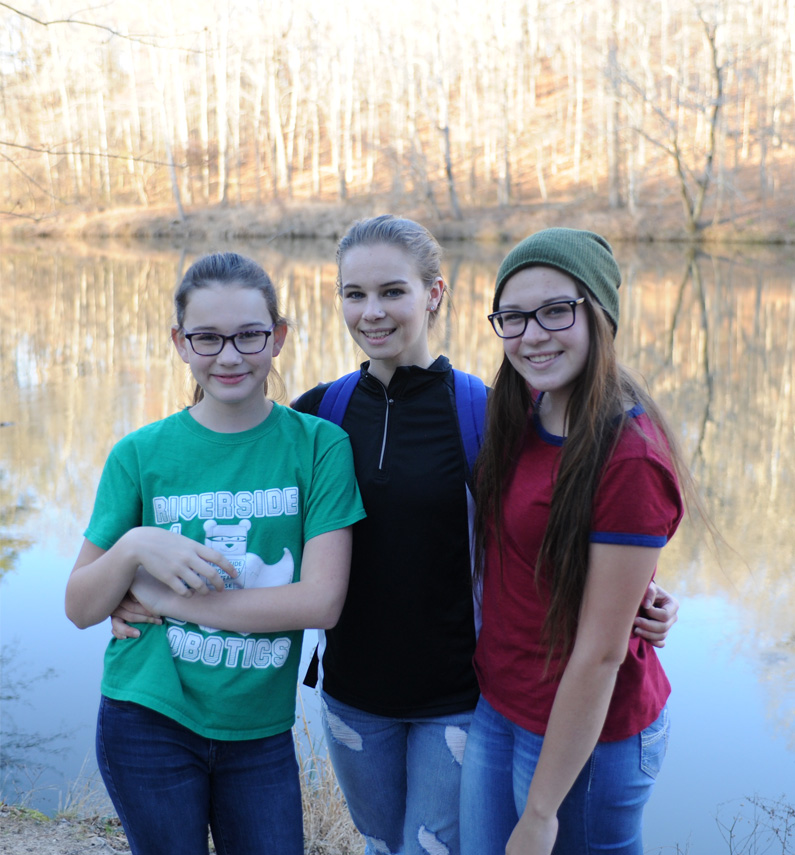 | | |
| --- | --- |
| As we moved toward a calm sunset, we were surrounded by reflections on the water surfaces. | |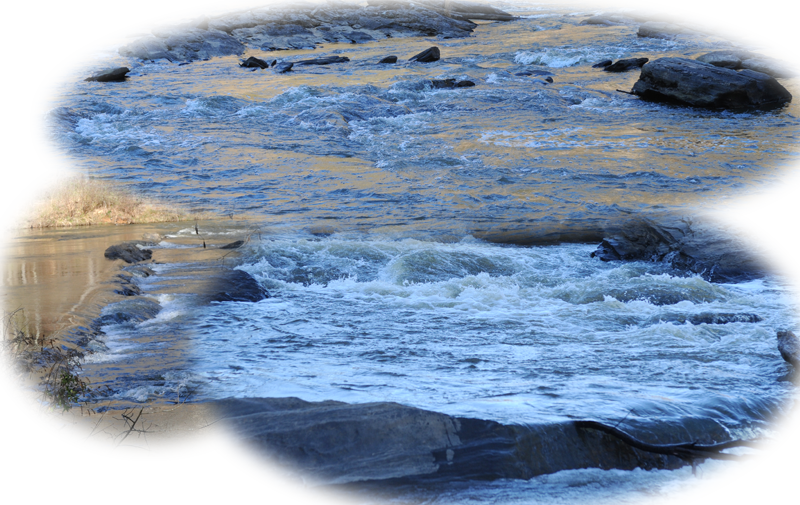 We had seen a great variety of patterns in the water over these shoals in Sweetwater Creek.
Monday, February 27
| | |
| --- | --- |
| On Monday it turned off cool, so Marty built a nice bonfire with the oak wood he has been collecting and splitting. We had a pack of big marshmallows, so our agenda was clear. | |
We enjoyed the marshmallows and the fire, but these pictures surely do send some mixed messages about the weather. Shorts and barefoot, but with jackets and boggin caps?
Tuesday, February 28
| | |
| --- | --- |
| As always it was a blessing to spend time with our three granddaughters, who are now young women and as tall as Grandma. | |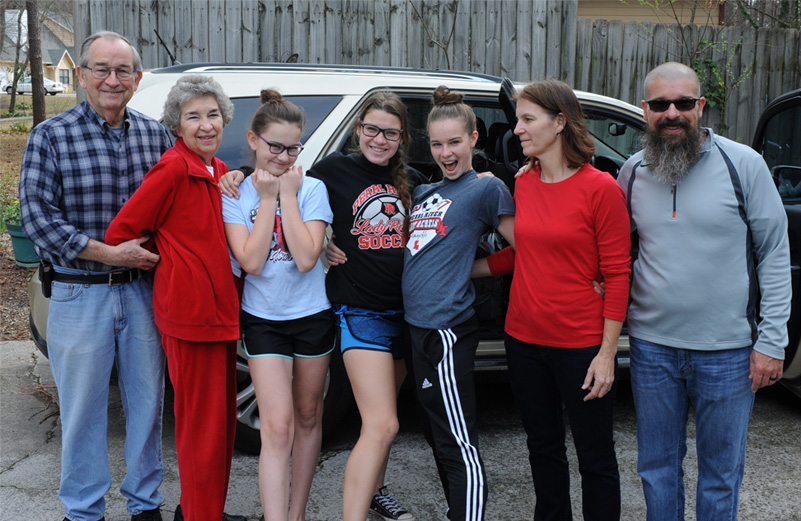 We had our family prayer together and they were on their way back to Pearl River. We look forward to the next time we can be together.