Yellowstone
Moose Bull and Cow by Yellowstone River
Along the road where a marshy creek runs in we saw several people gathered with cameras and binoculars. Looking sown the creek we spotted the characteristic moose antlers - lying down in the tall grass. I parked a little further on, grabbed my 40 lb backpack of camera equipment and the boys and I headed across the meadow, reaching the water beyond and upwind from the moose - the other people were approaching from the road down the waterway. A guy and a girl came down the path right behind us. He identified himself as a park employee and cautioned me about getting too close. He said it was an old bull, an d a young 2 or 3 yr old cow. When in rut the bulls sometimes charge - he said if the bull got up, I shoul run. I was quite agreeable to that but I was able to get close enough to get a couple of shots wit the 300mm lens. The bull and cow just lay there in the shallow water among the tall grass. August 22, 1982.
Bison Herd by Yellowstone River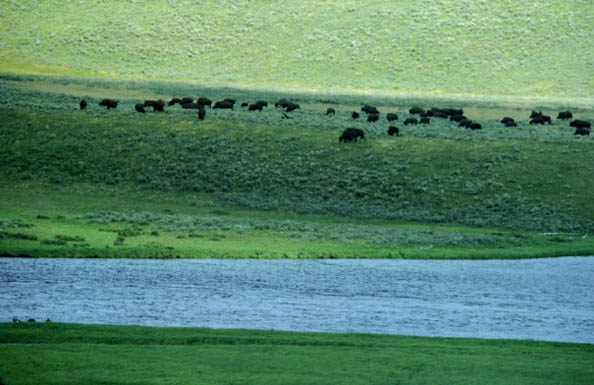 We drove on along the road and noticed another clump of people, so we pulled over. Down by the river was a beautiful herd of buffalo, about as big as the herds we had seen on the National Bison Range. That setting was actually prettier than the ones we saw on the bison range - there was the lush green valley, the Yellowstone River ;and t he herd grazing along the opposite shore. Like the pattern at the bison range, there were three isolated bulls in wallows on the near side of the river. Several people had left the road and walked down close to photograph them - in violation of the rules of the park and the rules of common sense. We understand that in rut in August the bulls can be dangerous. August 22, 1982.
Old Faithful in a Hailstorm

We drove on down to the lake, had a picnic lunch and then drove over to Old Faithful. The boys were keen on seeing it - and it is the most famous point. But a thundershower had come up so we put on our ponchos. We stood near the geyser in pouring rain and then it began to hail! The geyser did erupt on schedule and we could say we saw it, but it was not all that big a deal. More memorable was the fact that we stood in a driving rain and hail storm waiting for it to erupt. August 22, 1982.
Index
Trip Day 22