Westward from Amarillo
After spending the night in a KOA Campground in Amarillo, we headed west on I-40. Brenda and Mark are by the van where we stopped to survey the sights. This is in west Texas. This is a good view of the van we traveled in for almost a month. I was proud of the fiberglass coated wooden box we had built to carry our camping gear on top of the van. We had also built a redwood rack to hold some folding chairs for camping. August 3, 1982.
Brenda, Mark and Jeff climbed a bank beside the highway. The country opened up in a dramatic way in the Texas panhandle west of Amarillo and we felt like we were in the West! Brenda, Jeff and Mark climbed the bank beside the highway.
Isolated Farm Compound, Texas Panhandle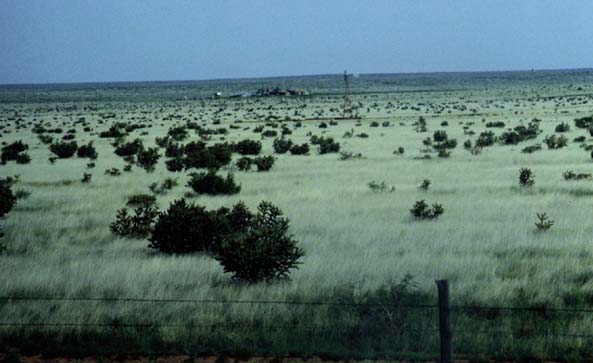 We passed through a lot of country like this in Texas and New Mexico. This is along I-40 west of Amarillo, close to the New Mexico line. This seemed to capture the feeling of the wide open country: the barbed-wire fence, grassland dotted with mesquite, the isolated farmstead with the windmill for pumping water. August 3, 1982.