Brenda at New Mexico Welcome Center
Brenda with the van as we stopped at the New Mexico welcome center. It is apparently partly powered by a wind generator. August 3, 1982.
Wide Open New Mexico Highway
There is a feeling of liberation in being on a wide open highway which leads to the horizon. There was plenty of open space in eastern New Mexico along I-40.
Brenda and Boys on New Mexico Highway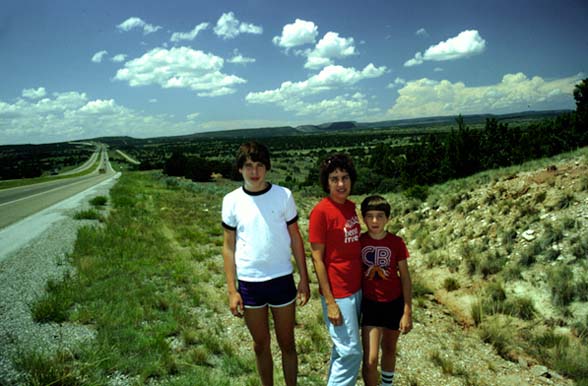 Brenda, Mark and Jeff by the roadside on I-40. We were heading out west from Amarillo after spending the night camping. This is a fairly short distance into New Mexico. August 3, 1982.
| | |
| --- | --- |
| | Inset from previous picture. Brenda, Mark and Jeff with a background of plateaus and scrub forest. Along I-40 in eastern New Mexico. August 3, 1982. |