Mark and Jeff Climb Lacey Point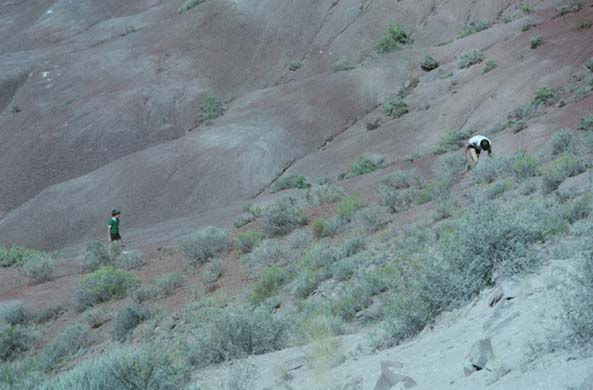 While Brenda and I had our morning coffee and relaxed a bit, Jeff and Mark enjoyed racing around the slopes. They came back with tales of "green-speckled gulley-runners". Besides their encounter with the flash flood yesterday, this was the most excited they had been. It had been a long slog for them in the van to get this far, but now the pace slowed down enough that they could have some time to explore. This is at Lacey Point in the Painted Desert. August 4, 1982.
Mark at Painted Desert

Mark enjoyed the binoculars, a new discovery for him I think. He is probably the one who spent the most time with them. This is an excerpt from the following broader view. Painted Desert. August 4, 1982.
Mark with Overview of Painted Desert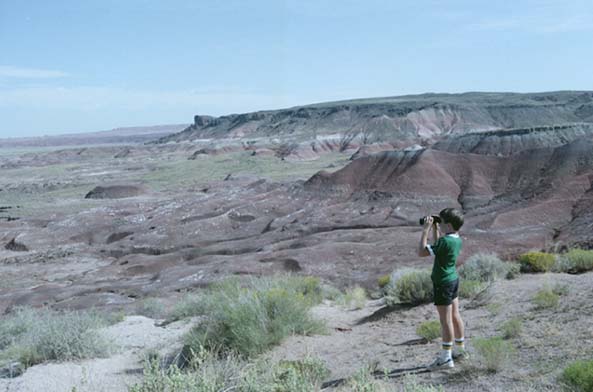 Mark enjoyed the use of the binoculars in places like the Painted Desert. The park literature gives information about the colored layers of the mounds and cones. The distinct white layer interrupting the reddish base is sandstone. The darker red is iron-stained siltstone. The iron oxide is hematite. The reddish base is bentonite stained by iron oxide. Some peaks show white again with another layer of sandstone. There are some dark layers caused by high carbon content. August 4, 1982.
Index
Trip Day 4
Painted Desert