Houses in Beaumaris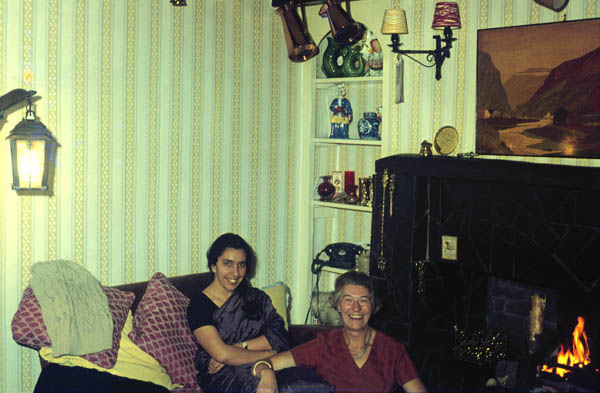 We visited often with Mollie Tarbuck, who lived up the street from us. She enjoyed walking, and we often walked with her and her dog. We even made a trip to the English Lake District with her and her sister. On this occasion our friend Puya Mair Guzder was with us. She was a doctor at the hospital where Brenda worked.
We remember this house often as an example of the great difference in time scales in the U.S. and the U.K. This house was built in 1540! Things were built to last! Mollie was very proud of the history of her house, although she sometimes groused about the fact that she was not allowed to change the external appearance of the house. It had exposed wooden beams in the ceiling, and she always had the fireplace going.
This is Mollie's dog Grip. He was an important part of Mollie's life, and we became quite fond of him as well. We were with her when she bought him, a registered Yorkshire Terrier. He was friendly and alert, and an excellent companion on walks. This picture depicts well the warmth and comfort of Mollie's home. We were grateful for her friendship.
Up Church street from the place where we lived was a row of older Welsh houses. As Brenda walks along in front of them, you can see that the doors are about her height, about 5'6" ! Very curious! The Welsh are not extremely tall people, but they are not that short. They had to bend over to go in the door. I don't know the origin of the practice, but there were a lot of houses with the short doors. We always reflected on how old these houses were - many from the mid 1500's! Older than our country! The only things in this picture which tell you which century you are in are the TV antennas and the mini car.
| | |
| --- | --- |
| | Rod in his Welsh sheepskin coat stands by another of the short doors. The Tudor style graces this Tudor Rose pub, but the short door speaks of Wales, not England. |
Up on the hill at the top side of Beaumaris were more modern houses. Built sturdily in the local tradition, they might last centuries. The doors are regular size and the windows are much larger than those in the older homes. They have slate roofs, as required by the building code in this slate-mining country. This scene includes the Menai Strait and the hills of Caernarvonshire on the opposite shore.
| | |
| --- | --- |
| | In upper Beaumaris near the primary school was this row of new attached houses. In the view of many, the attached houses were the desirable way to build, and the detached houses were viewed as something of an oddity. |