Rainbow Over Menai Strait
This view of the Menai Strait is taken from a pasture on the hill just south of Beaumaris, Anglesey. We were delighted to catch the rainbow over the Strait. The tide is out, so that the sandbars are visible. At high tide, none of that is visible and the yachts float in water brought in by about 8 ft of tidal rise. Across the Strait in the clouds are the mountains of mainland North Wales.
The rainbow shows evidence of the "supernumerary arcs" inside the primary rainbow. Inside the green and blue you get a faint hint of another light green band, which is caused by light interference. It's visibility depends on water droplet size, so it is not always seen. May 22, 1967
Rainbow Over Beaumaris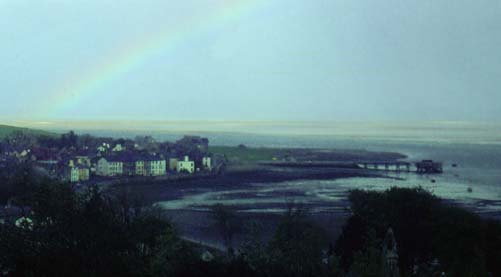 This view of Beaumaris from the hill to the south of town brings back many memories. We traveled to Bangor each day by the pier and along the Menai Strait here. At low tide as shown, the entire basin empties, but at high tide the water is lapping at the walls across the road from the row of houses seen. May 22, 1967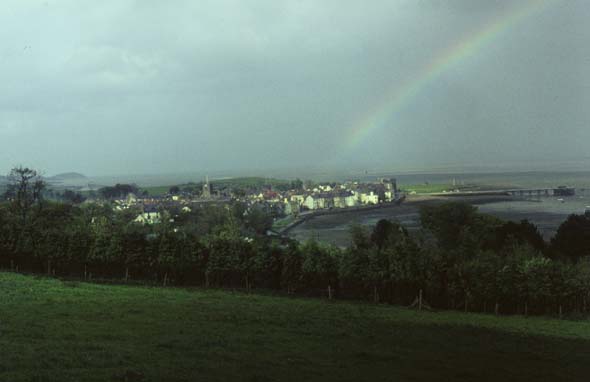 This view shows the church tower more clearly. It was across the street from our flat and up a short way; we could look at it out of the window of our third floor "flat". Also visible at the left of this view is Puffin Island, just north of Beaumaris off the coast. This gives a clear view of the road along the Menai Strait and the fact that the basin is almost empty at low tide. The water lapped at the wall beside the road at high tide. We walked down to the pier from our apartment regularly to look at the strait and to hear and watch the gulls.
We spent a lot of time walking in the green fields above Beaumaris, Anglesey. This was a particularly fortunate day when we saw the fine rainbow above Beaumaris. This gives a great perspective of the situation of the town on the Menai Strait . May 22, 1967
We spent a lot of time walking in the green fields above Beaumaris, Anglesey. This was a particularly fortunate day when we saw the fine rainbow above Beaumaris. This gives a great perspective of the situation of the town on the Menai Strait. The pier can be seen, and the tower of the church which was almost just across the street from where we lived. May 22, 1967
This is just a slightly different perspective, swinging more across the Strait. The mountains of the mainland and part of the Great Orme Head can be seen in the cloud. This was a particularly fortunate day when we saw the fine rainbow above Beaumaris. May 22, 1967