Sheepdogs Bringing the Flock In
Brenda and I were fascinated to watch two black and white sheepdogs expertly bring a flock of sheep down a rocky, bracken-covered hillside toward a stone house. Note the two dogs near the big rocks in the upper left of the picture. The sheep were brought down the hill and into a rock-walled field, and we never saw a human out there directing them. We were on a drive to Beddgelert. This was just north of Beddgelert, near Lynn Dinas. October 29, 1966.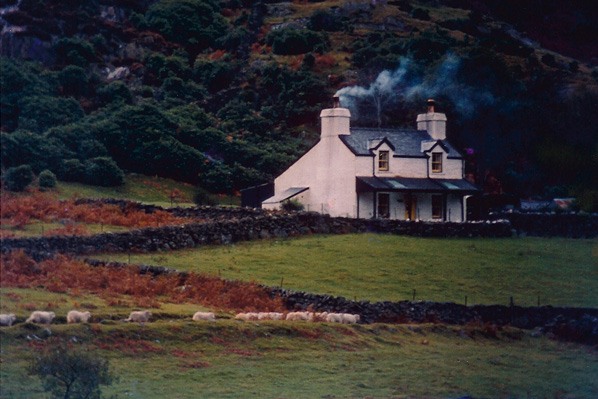 This is the farmhouse to which the sheep were herded. The only thing we observed in the way of guiding the dogs was a couple of whistles, but we never saw a person during the whole process.
This is the Afon Glaslyn (Afon = Welsh for river) in the Aberglaslyn Pass. The Afon Glaslyn flows southward through the Aberglaslyn Pass south of Beddgelert and on out of Snowdonia.