To Vancouver, British Colombia
In two days time from Denver, we reached the Seattle area. We had bedded down in a cow pasture somewhere in southern Idaho for our second night on the road. We had driven into Salt Lake City about dark and were treated to a view of the lights of the city as we approached down a long incline. Driving northward to Idaho, we decided to find a place to sleep. We were all tired and not too picky about our camping place. We just bedded down in what looked like a pasture and slept. The next day we drove about 850 miles as I recall - the longest one day stretch after the run from Atlanta to Denver.
Through Idaho with some bad jokes about not seeing any potatoes. We saw lots of cows and pastureland, with a lot of hay and hills.
Our quick pass through Oregon gave us views of nice hill country with small conifers.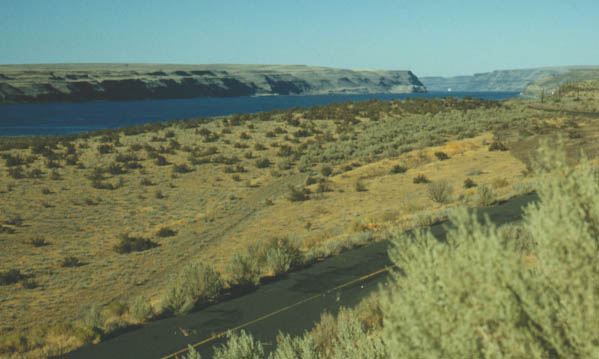 One of the sights along this extended run was the Columbia River and Columbia Gorge on the border between Oregon and Washington.
Above are views of the bridge over to Vancouver, British Columbia. As we got into the Seattle area, we had an evening before we were to pick up John. We were looking at a map of the area, including Vancouver, BC, when we spotted a suiggly road line out of the city of Vancouver. Someone said "Hey, I wonder where that road goes?" The rest is predictable: "Let's go find out!" We drove up the winding road up Grouse Mountain and were rewarded with marvelous views of the city of Vancouver from the Mountain.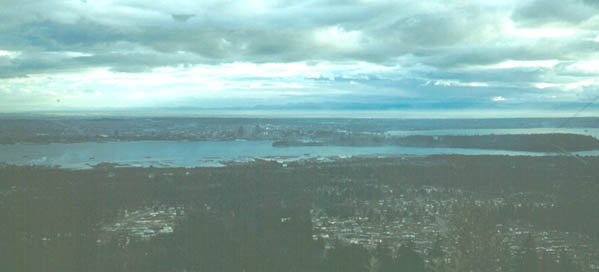 View from Grouse Mountain. There was a ski lift to the top of the road we had driven up.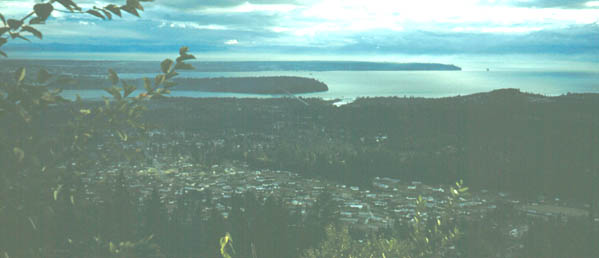 Viewing an area just to the west of the view above. It includes the bridge which is pictured above.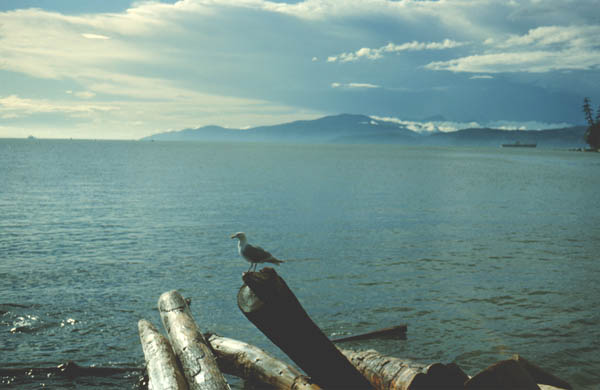 We were pleased to have gotten to the Pacific Ocean, or at least a bay connected to it. So at least Sam had driven from sea to sea, diagonally across the country from south Florida to northern Washington state.
| | |
| --- | --- |
| | Picking up John in Seattle the next day, we took the ferry over for a look at the Olympic Peninsula before heading out toward Yellowstone Park. |