From Florida to Vancouver, British Colombia
This is an active graphic. Click on any thumbnail image for larger images.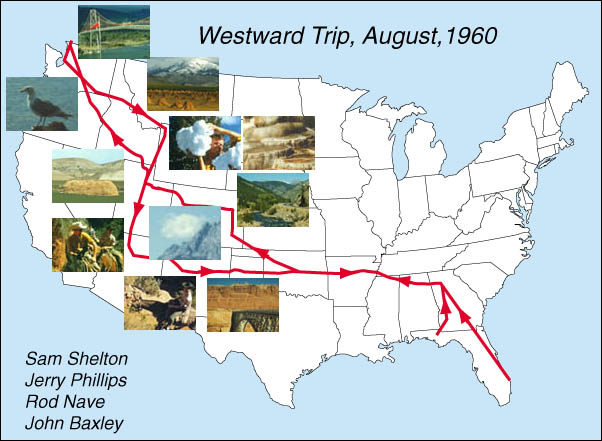 John Baxley was in Alaska on BSU Summer Missions and was due to arrive back in Seattle from Alaska in late August. At some point someone must have said "Why don't we drive out there and pick him up?" I don't remember who, but Rod, Sam Shelton and Jerry Phillips took up the challenge. Perhaps Sam was the main initiator, since he had the car. Rod was in Perry, Florida on a summer job and Sam was in Florida. As I recall, we met in Atlanta and drove non-stop to Denver. Within a short few days, we were in Vancouver. We picked up John and proceeded down through Yellowstone, the Grand Tetons, the North Rim of the Grand Canyon and then eastward toward home. Crazy? Of course! But often the craziness of college students makes lifelong memories and helps cement lifelong friendships.
With two pup tents, a Coleman stove, and enough camping gear to fill the trunk of Sam's car, the four of us made the trip back across the country. Jerry, John and Sam enjoy their coffee after supper. With surroundings like this, we certainly didn't feel deprived.
Sunrise was welcome since we had driven through the night. This was probably somewhere in Oklahoma.
The first leg of the journey was something you do when you have the endurance of college students. We roared all the way out to the Denver area from Atlanta. I remember us stopping somewhere in Oklahoma early in the morning and dragging out the camp stove and cooking a breakfast of pancakes and eggs.
And then it was on to the first real sightseeing objective of the trip: Pike's Peak in Colorado. Sam drove up the winding gravel road to the top of the peak. We were there late in the afternoon. When we drove down, we found a campground and pitched our two puptents. The next morning we found frost on the foot ends of our sleeping bags, which were sticking out of the tiny tents. This was quite a contrast to the hot August weather we had left in Atlanta less than two days earlier.
| | |
| --- | --- |
| Proceeding to Denver, we traveled west on Hwy 70 and found the road really marvelous. Traveling along beautiful streams like this one and seeing all the old mines up on the mountainsides was really memorable. | |
| | |
| --- | --- |
| | Climbing into the Rocky Mountains, we crossed the continental divide. This is the image that I remember most vividly in the area of the divide. Being in the high Rockies was exhilirating. |