Campground Cooking
August, 1960
Say, that pancake doesn't look half bad!

We just had this Coleman camp stove and the cooking stuff we could cram in Sam's trunk along with the tents. But guys our age will eat just about anything, and my recollection was that it was pretty good.
We slept wherever we could find to pitch our two puptents at the end of the day. We cooked up whatever we had on the Coleman stove. We were fortunate to have good weather the whole trip.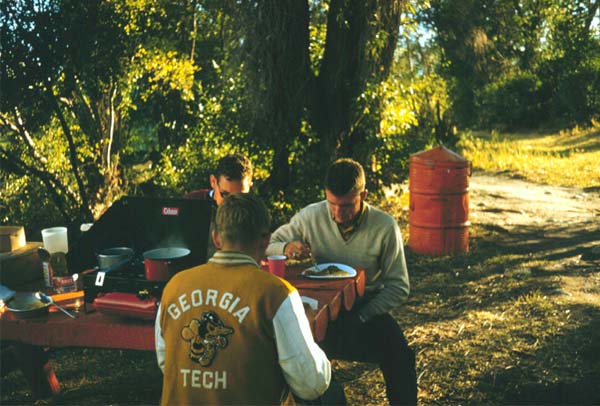 | | |
| --- | --- |
| Even when we just ate out of cans, we did it rejoicing in some of God's most beautiful country. | |
| | |
| --- | --- |
| | When we had to wash our dishes in a spring, we felt like we were really a part of the old west. |
The Wind in the Pines

It was at one of these meals, on the North Rim of the Grand Canyon, that Jerry Phillips produced the most memorable moments of the entire trip for me. As I recall, it was about dark and we were sitting around a campfire having our evening meal, and we could hear the wind in the pine trees around us. Jerry shared with us that the sound of the wind in the pines was a symbol of life to him. He had a severe case of tuberculosis as a child and had a long stay at the Batey Hospital for tuberculosis in Rome, Georgia. After a long time there, when he was improving and it appeared that he would live (many with a case as severe as his did not survive), he would sit out on the porch at the hospital ... a hopeful step after his long confinement. He told us that the thing he remembered vividly was the sound of the wind in the pine trees ... that it was a symbol of life to him.
I don't know whether he had tears in his eyes or not when he told us that story, and I was much too macho to let him see mine, it being fortunately pretty dark. But when I hear the wind in the pines to this day, I think of Jerry and thank the Lord for the great blessing of life! Thanks, Jerry!
Index
1960