Mule Trip down the North Rim of the Grand Canyon
August, 1960
Sam, John and Jerry on the trail down the North Rim of the Canyon. We were fortunate to find spaces available and thoroughly enjoyed the trip down the Canyon. This was one of our luxuries on the trip ... we didn't have much money and we didn't do many things you had to pay for.
Stopping to rest the mules gave us a chance to look around at the steep canyon walls and the dramatic switchbacks of the trail below us.
John and Jerry wind their way around an inside wall where the trail is carved out of the side of the canyon.
We were surprised by the tightness of the switchbacks on the steep slope.
At times the switchbacks were so tight that we found ourselves looking almost straight down at another part of the trail. At this point I am almost directly above John Baxley.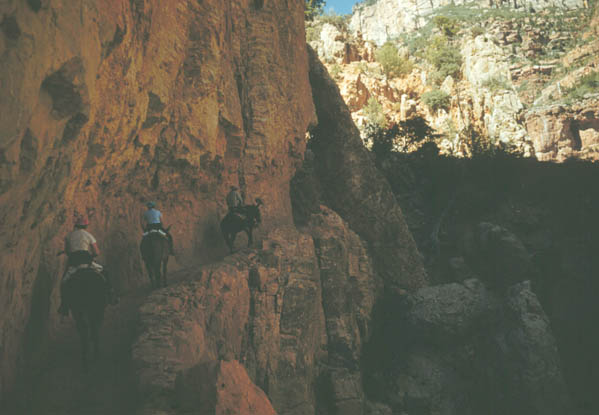 At this point the trail actually wound around in a cleft of the rock which had been carved out for the trail.
| | |
| --- | --- |
| | There was plenty of variety in the scenery as we wound to the bottom of the canyon and back up again. |
One last view of the North Rim, Grand Canyon before we headed off eastward.