First View of Lassen Peak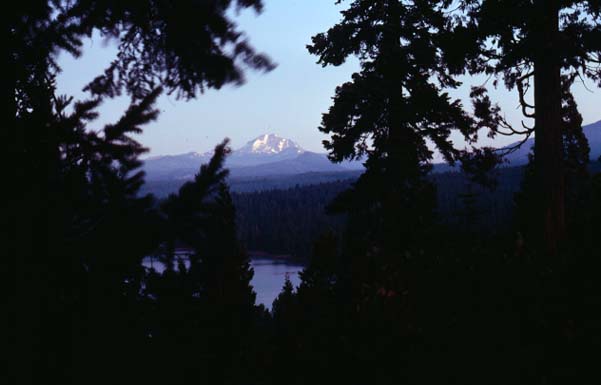 As we left our campsite on Lake Almanor about dawn, we got our first views of snow-patched Lassen Peak over the Lake.
We rose and left at first light from the little resort campground by Lake Almanor. None of the other campers had stirred - they were week-long campers for the most part and kept a more liesurely pace. A short way down Hwy 36 we caught sight of the top of Mt Lassen in the early light and pulled over to a rest area for me to take a picture.
Further down the road we crossed the end of the lake and got another good view of Lassen Peak. As I got out to take another picture I heard this curious honking sound and wondered if it might be Canadian geese. Sure enough, as we drove on past the shallower water where it was marshy, we saw several geese. We also saw some flying. Seeing some gulls with them, we wondered if they came from Mono Lake.
Driving along through the forest in the dim morning light we saw a deer cross the road, then what we took to be a coyote, and then a bobcat (at least it was a grayish looking cat with no tail). We were sorry the boys were sleeping.
As we neared Lassen Park we were treated to views of the peak and some lower peaks with little wisps of cloud around their peaks. This cloud burned off within an hour. August 15, 1982.