Mono Lake, Lake Tahoe to Lake Almanor
Sunrise Over Mono Lake

August 14, 1982.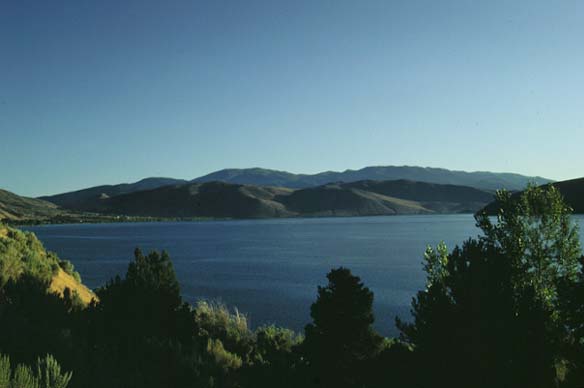 Lake Tahoe from Highway 50
August 14, 1982.
Emerald Bay, Lake Tahoe
August 14, 1982.
Emerald Bay, Lake Tahoe
| | |
| --- | --- |
| | An example of some of the beautiful trees around Emerald Bay, Lake Tahoe. Mark stands by one of the large evergreens on the lakeshore. August 14, 1982. |
Wide Open Highway to Northern California
Our California camper acquantances had recommended taking I80 to Reno and 395 to near Susanville rather than the slow 89 cross country through the mountains. This we did and found it to be very fast so we rolled on through desert and then expansive rolling desert mountain terrain. Jeff did a good job of navigating as we left 395 to 44 and then to 36. Susanville and other small places along this routhe looked like old western towns - which as a matter of fact they were.
Jeff located a campsite that he liked the sound of on Lake Almanor , which we had never heard of . We located the turnoffs and wound our way through small resort motels and camping areas on the power company-controlled lake - similar to Alatoona except it was in the high evergreen forest.
We drove hesitantly into the campground right on the lake and finally found the office in the little store off a deck where people were playing ping-pong and other games. There was one space left - because a reserved week camper had not shown up - so we pulled the van in the lot in view of the lake and boats. It was very different from the KOA's and other overnight facilities. All the kids knew each other - most of the people had been coming there for years for their vacations. I was a little uneasy in that setting but the facilities were nice. We didn't take advantage of the two movies they showed, and couldn't get any time on the busy ping-pong table - but we walked on the lake and enjoyed the scenery. August 14, 1982.
Index
Trip Day 14