Crater Lake!
West Rim of Crater Lake
This view is north of the lodge along the west rim of Crater Lake. The view is roughly south along the west rim. August 16, 1982.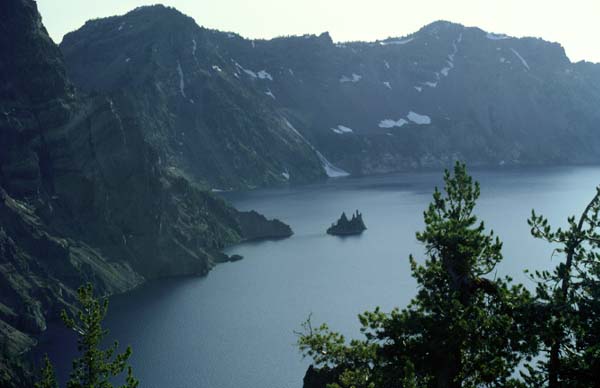 Phantom Ship in Crater Lake
The smaller of the two islands in Crater Lake is called Phantom Ship. In certain lights it looks like the silhouette of an old sailing ship. August 16, 1982.
Golden Mantled Ground Squirrel
The golden mantled ground squirrels were out in force at Crater Lake and the boys really enjoyed them. August 16, 1982.
Jeff and an Appreciative Squirrel
Jeff persuaded one of the golden mantled ground squirrels to crawl up on his leg to get a bread crumb. This was taken at the Wizard Island overlook where the squirrels were particularly hungry. August 16, 1982.