Crater Lake!
Clark's Nutcracker
The Clark's nutcrackers were also out in force at Crater Lake . This one is on the wall with the deep blue of the lake behind it. August 16, 1982.
View Northward from Crater Lake Rim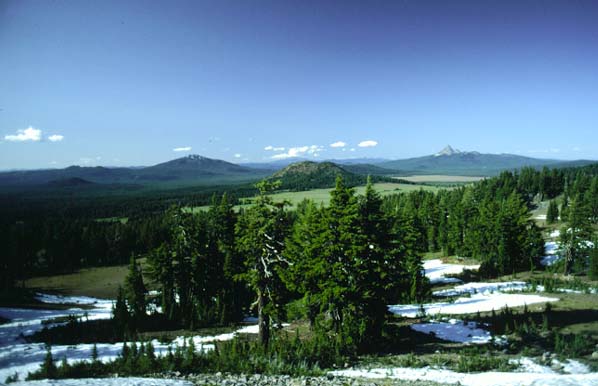 There was still a lot of snow on the ground at Crater Lake, so that added to the beauty of the scenery for us. This is a view north from the north rim of Crater Lake. It includes a view of Mt. Thielson. August 16, 1982.
Mt. Thielson
One of my favorite views from the Crater Lake region was northward to Mt. Thielson. The expanses of unbroken forest on the flank of the mountain and its general wide open setting was an exhilirating view for me. Further north at the left of the picture are the Three Sisters mountains I believe. August 16, 1982.
Mountains to North of Crater Lake
One of the neat things about volcanic mountains is that they stand out so much above the surrounding terrain that they give you great long distance views. This is another view to the north from the north rim of Crater Lake. August 16, 1982.