Crater Lake!
Endless Forest from Crater Lake
There are not many places in the United States where you can see unbroken forest all the way to the horizon. One of the neat things about volcanic mountains is that they stand out so much above the surrounding terrain that they give you great long distance views. This is a view eastward from the north rim of Crater Lake. August 16, 1982.
Doe and Faun in Crater Lake Meadow
August 16, 1982.
Campsite in Mazama Campground
As we entered Crater Lake National Park in the early afternoon, we passed a campsite, Mazama Campsite, just as Brenda was reading in the park paper that it was the only one open this year. So we wheeled about and found a campsite and went through the self registration procedure. We put a tablecloth, our trash and dishes on the table, put a note on the site marker "Taken" and headed for Crater Lake.
After a tour around Crater Lake in the afternoon, we returned to the campground, and prepared to bed down - expecting temperatures in the low thirties. The boys built a fire and roasted weiners and marshmallows. Brenda also roasted a few marshmallows.
Brenda and the boys went to the campfire and heard a program and saw slides about the park. August 16, 1982.
Roasting Hotdogs at Crater Lake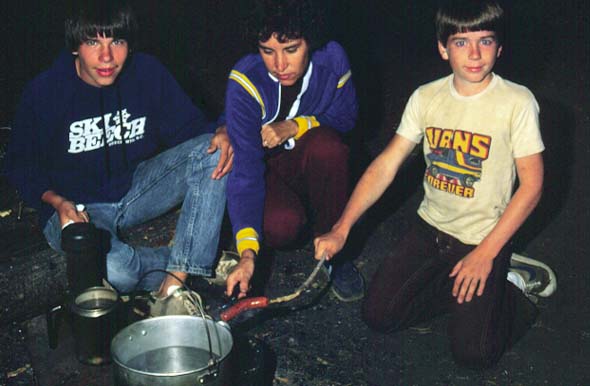 August 16, 1982.